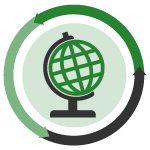 Waste pickers in Rio de Janeiro are playing a key role in recycling during the Olympics, and India is set to receive its first integrated vehicle recycling facility.
India: Two Indian states are on the list to receive the country's first integrated end-of-life vehicle shredding and recycling facility, notes Waste Management World. The plant is scheduled to open in 2018 and will handle collection, dismantling, shredding, recycling and disposal of end-of-life vehicles.
Brazil: Long-marginalized in society, waste pickers in Rio de Janeiro have a central role in recycling during the Olympics. The Guardian reports waste cooperatives have been formally contracted to provide recyclables collection and sorting from various Olympic venues.
Brazil: The giant rings on Rio de Janeiro's famous Copacabana beach aren't just highlighting the Olympics – they are also showcasing recycling. Recycling International reports a Netherlands-based refillable bottle maker has supplied the giant recycled-content rings, which might also be used during the 2020 Olympic Games in Tokyo.