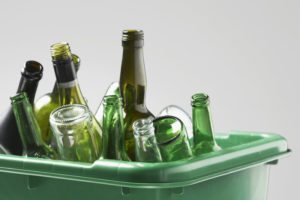 The small city of Rock Island, Ill. is making changes to its curbside recycling program, and the single-stream system will now include glass.
According to the Moline, Ill.-based newspaper Dispatch-Argus, Rock Island's five-year contract with Republic Services goes into effect Aug. 1 and will add more than a dollar to each customer's monthly bill, making the price $3.90 per month. The new contract makes several service changes.
Rock Island's current provider, Midland Davis, lost the bid to Republic. That contract would've cost customers $4.48 a month.
The move to add glass to a residential program is notable – it comes at a time when many municipalities are considering removing glass from the curbside mix. Houston earlier this year announced it would no longer accept the material curbside.
Markets for recovered glass have been constrained in some areas of the country, and when commingled with other recyclables, glass can be difficult to cleanly sort out.
Under the contract with Republic, the City will no longer provide rollcarts to residents. That job now belongs to Republic. The size of the carts available, 48 and 96 gallons, remains the same.
Rock Island is about 175 miles west of Chicago and has fewer than 40,000 residents. The recycling program is subscription based, with about 2,800 residents signed up. The City says it gains about 75 customers each year.
The City also offers recycling drop-off centers for those residents who don't participate in the curbside service.