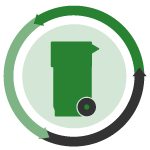 New York City businesses achieve a waste-reduction goal, and two popular beverage companies make changes to the materials they use for packaging.
Challenge accepted: Earlier this year, New York City Mayor Bill de Blasio challenged major businesses in the city to cut their waste in half in six months. Results released recently from the mayor's office show they accomplished that goal by diverting more than 36,000 tons of material from landfills.
Sustainability goals: The American Forest & Paper Association has released its 2016 Sustainability Report. The report highlights how the pulp, paper, packaging and other wood products manufacturers are achieving goals towards sustainability.
Same tea, different package: Here's the latest example of the "evolving ton" of materials heading into the waste and recycling stream: AriZona Beverages ismoving away from glass bottles and will start using plastic, reports Plastics Today.
Shipping shift? Some shipping analysts are speculating the newly widened Panama Canal will attract Asian import traffic to East Coast ports over West Coast ports. But import-export research firm Datamyne says that isn't likely to happen anytime soon because even though the canal can handle the megaships, many ports cannot.
Colorado's waste management plan: Colorado has released its first solid waste management plan since 1992. The goal is to help local communities and governments improve waste disposal in the future. Read the full report here.
Alleged redemption fraud: The Alberta Beverage Container Recycling Corporation (ABCRC) has filed a lawsuit against three bottle depots and nine former ABCRC employees for fraud. CTV News says the employees worked with the beverage depots to rip off the industry recycling corporation.
NYC capture rate: The New York City Independent Budget Office posted a blog entry recently that details how much of the city's curbside recyclables are actually getting recycled. The blog reveals the city has about a 44 percent capture rate.
A lighter cold one: Miller Coors has released its 2016 Sustainability Report. One of the highlights announced was the production and use of a lighter can, whichreduced the use of aluminum by 4.8 million pounds for the beer behemoth.