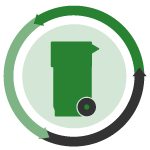 Despite packaging lightweighting, Canada boosted the amount of plastic it collected for recycling in 2014, and Houston installs 10 additional glass-collection bins.
(Not a) wall of garbage: Many in the online world, including Mashable, are poking fun at presumptive Republican presidential candidate Donald Trump for speaking in front of what pundits are calling a "wall of garbage." It was, in fact, not garbage but baled recyclable materials.The Daily Show even called it a "wall of garbage" in a segment fact-checking his speech.
Canada recycles more plastic: Canadians diverted 3 percent more post-consumer plastics in 2014 than they did the year before, according to the Canadian Plastics Industry Association. The report, by Moore Recycling Associates, showed 707 million pounds were collected in 2014, with the vast majority moving to domestic markets.
Glass collections: Several months after deciding to remove glass from its curbside program, Houston is installing 10 additional glass collection bins, KHOU.comreports. Secondary glass processor Strategic Materials will pay for the bins and collect material from them.
Food waste outreach: The Huffington Post has launched a campaign highlighting the scale of food waste in the U.S. The "Reclaim" initiative from the site will cover the issue from all angles, as well as engage audiences to encourage action.
Food waste prevention: In a related move, the U.S. EPA and the U.S. Department of Agriculture have issued a call to action to reduce food waste by 50 percentover the next 15 years. The effort identifies current opportunities and challenges in reducing food loss and waste in the U.S.
Preventing contamination: Officials in South Carolina's Charleston County are trying to prevent contaminants in the recycling stream with educational outreach. Currently, the local sorting facility gets shut down two or three times a day because of a contaminated item, according to the Post and Courier. That leads to costly delays.