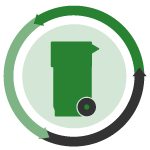 Paper giant Cascades closes a Maine mill consuming recovered fiber, and Winnipeg notches a high recycling rate but receives more missed pick-up complaints.
Diversion rate: The diversion rate in Winnipeg, Manitoba climbed to 31.4 percent last year, largely because of an increase in collection of yard debris, CTV News reports. But not everybody is happy: The number of calls made for missed pick-ups jumped 30 percent to 37,782 in 2015.
Mill closing: Tissue and packaging maker Cascades will close an Auburn, Maine mill manufacturing de-inked pulp from old paper. In making the decision, the Kingsey Falls, Quebec-based company cited the erosion of the printing and writing paper market, overall deterioration of market conditions for de-inked pulp and low potential for integration with other Cascades activities.
Bottle deposits: Oregon's 5-cent bottle deposit will likely double to 10 cents in 2017, the Klamath Falls, Ore.-based Herald and News reports. The Oregon legislature in 2011 passed a bill saying the deposit would double if the redemption rate falls below 80 percent for two consecutive years, and it appears that happened 2014 and 2015. Oregon was the first state to implement a container redemption program, but Michigan is the only one with a 10-cent deposit on all containers.