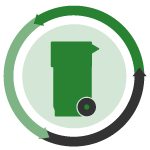 One of the world's biggest fast-food companies is reportedly failing to meet its recycling obligations in British Columbia, and The Recycling Partnership provides cart financing in Michigan.
Bag fee bill: The legislation imposing a 5-cent fee on plastic and paper bags in New York City has gained a key supporter: City Council Speaker Melissa Mark-Viverito. AM New York reports the bill would exempt restaurants and street vendors.
EPR compliance: Regulators in British Columbia say Yum Brands is failing to meet its extended producer responsibility obligations for packaging and printed paper. CBC News reports Yum Brands, which includes KFC, Pizza Hut and Taco Bell, received a letter nearly a year ago from the B.C. Ministry of Environment and remains out of compliance.
Recycling legislation: Wisconsin Gov. Scott Walker has signed a bill that will restore $3 million in funding for recycling programs in the state, the Wisconsin Gazette reports. The increase in funding comes about a year after Walker signed off on a bill to cut funding for the 2015-2016 fiscal year by $4 million.
Recycling Partnership support: The Recycling Partnership will provide money to help Emmet County, Mich. purchase 7,000 recycling carts for its communities. The county matched the funds with money from local companies using recycling materials and from state government. Cart distribution is slated for this summer.
Waste-to-energy battle: A teenager who battled a waste-to-energy project in Baltimore has won the Goldman Environmental Prize for grassroots environmental activism. Destiny Watford won for her campaign, which aimed to stop the building of an incinerator.
Recycled-aluminum autos: Digital Trends explores the recycling of production scrap aluminum in new Ford and Jaguar vehicles. Ford, for example, said it recycles about 20 million pounds of aluminum each month, enough make about 30,000 F-150 bodies.
Diversion efforts urged: A Charlotte, N.C. nonprofit group leader is urging the city to preserve recycling for multi-family homes and take steps toward boosting recycling participation and diversion rates. Meg Fencil from Sustain Charlotte writes in The Charlotte Observer the city currently provides no financial incentive for residents to recycle.
Bins stolen: Residents in a Michigan township are reporting that somebody is carting off their recycling bins on collection days. Police in Bloomfield Township are investigating the thefts, according to the Oakland Press.