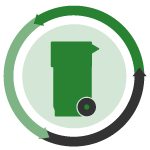 Regulators in British Columbia ramp up pressure on newspaper publishers to contribute to recycling funding, and New York City Council members will likely vote in early May on a plastic bag fee law.
The provincial government of British Columbia has demanded newspaper publishers meet their obligations to help fund newspaper collection and recycling under the province's extended producer responsibility law for packaging, according to CBC News. Meanwhile, Multi-Material BC, a producer-funded stewardship organization, estimates newspapers owe the group about 16 million Canadian dollars (about $12.6 million).
A vote on whether to impose a 5-cent fee be charged for plastic bags in New York City has been delayed until May. Crain's New York reports the New York City Council will likely take up the issue at the May 5 meeting.
The Ad Council and the Natural Resources Defense Council have launched an ad campaign focused on persuading people not to waste food. Called "Save the Food," the campaign includes a TV commercial focused on the journey of a strawberry from farm to garbage can. The ad effort will also use out-of-home, print and web advertising.
Local government leaders voted to preserve curbside glass collections in the Victoria, British Columbia area. The Times Colonist reports the Capital Regional District directors voted to maintain inclusion of glass in the curbside program, despite contamination concerns, and will launch an education campaign to encourage residents to use separate containers for glass and redeem bottles for their deposits.
Popular sports apparel company Adidas has announced it has eliminated plastic bags from all 14,000 of its stores around the globe.  Adidas begun phasing out the use of plastic bags last year in an effort to encourage paper bag usage and reduce waste.
Momentum Recycling is planning to open an $11 million dollar glass recycling plant in Boulder County, Colo, according to a recent story in the Denver Post.  Momentum expects the site, fully eqipped with Austrian sorting machinery, to process 5,000 tons of glass per month.
The Huffington Post takes a look at the key role scavengers play in Los Angeles in recovering recyclable materials from trash cans and directing them to recycling companies. One recycling company owner says his business depends on the 15 to 20 trash pickers who visit him each day to provide materials.
A recently released guide aims to help organizations launch composting programs at their workplaces. The Guide to Workplace Composting is from Kimberly-Clark Professional, The US Composting Council and Keep America Beautiful.
A manufacturer of 100 percent recycled-content fabrics has signed a licensing partnership to produce Major League Baseball-branded clothing. Morgantown, W.Va.-based SustainU has facilities in North Carolina, Pennsylvania, South Carolina, Tennessee and West Virginia.
Over the next few years, recycling service may become more cost-effective than garbage service, according to an analysis from IBISWorld. While price increases for recycling service is projected to remain steady, they're expected to accelerate for solid waste collection and disposal.
Unilever will again hold its "Rinse.Recycle.Reimagine." public outreach campaign to encourage consumers to recycle products found in the bathroom. Candace Cameron Bure, co-host of "The View" talk show, will help promote the campaign.