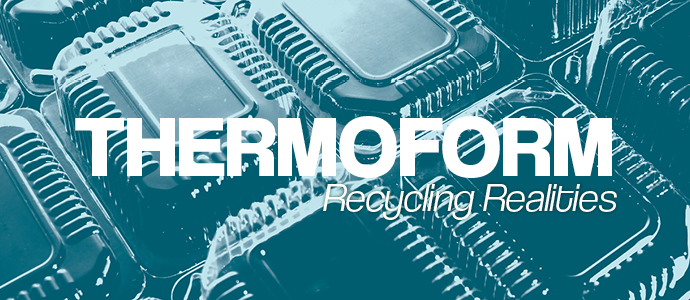 PET thermoform packaging has exploded in the marketplace over the past decade, increasingly used for food, as well as electronics, cosmetics and more. However, as the two stories below make clear, recovery of this material has remained a struggle.
As legislators, consumers and others continue to amplify concerns about plastic's sustainability, pressure is mounting to bring more thermoforms into the recycling stream – and to do so soon. The key to success in this area will be coordination among those processing material and those determining how material is collected and regulated. Of course, demand pull from packaging manufacturers will also be critical.
In this feature package, we've brought together several expert voices to help outline what research has taken place exploring the thermoform recycling market as well as what technical considerations and strategies must be kept in mind to open the door to cost-effective recycling of themroforms on a macro scale. This insight can help paint a clear picture of today's thermoform problem as well as practical steps to make significant progress toward solving it.
Primed for development
By Resa Dimino and Catherine Goodall
Walk through your nearest grocery store, and you'll see a variety of polyethylene terephthalate (PET) thermoforms – berry boxes, cherry tomato containers, lettuce boxes, egg cartons, deli clamshells and more.
Made of PET sheet that has been thermally molded into three-dimensional packages, this packaging type's presence in the market has grown as a result of the clarity, product protection and stackability it provides. Plastic thermoforms are also perceived to have an advantage over some competing packaging formats with regard to recyclability and the potential for use of recycled content, since PET is widely recycled.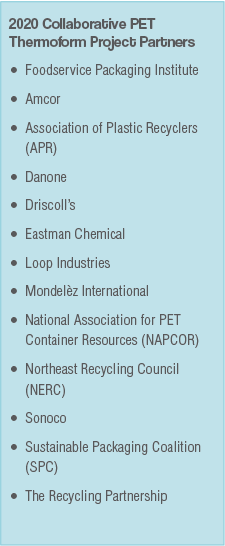 PET thermoforms enjoy fairly high levels of acceptance by recycling programs. According to the "2015-2016 Centralized Study on Availability of Plastic Recycling," published by the Sustainable Packaging Coalition (SPC) and conducted by Resource Recycling Systems (RRS), PET clamshells, cups and containers/trays were found to be accepted for recycling in programs serving more than 60% of the U.S. population.
Yet broad scale recycling of PET thermoforms lags significantly behind PET bottle recycling.
In 2020, a collaborative project spearheaded by the Foodservice Packaging Institute (FPI) and convened by RRS brought together 13 partner organizations to define the PET thermoform stream, determine possible pathways for increasing recovery of thermoforms, and gather stakeholder input on the pros and cons of those pathways. The group of partners formed in June 2020 and issued a report on its initial findings in December 2020.
"PET is one of the primary substrates used in the foodservice packaging industry" said Natha Dempsey, president of FPI. "We recognize the challenges and opportunities that face PET thermoform recycling, and we are excited to partner with many organizations on this project. We are eager to lead this project forward with the results of Phase 1 and look forward to increasing the acceptance, recovery and recycling of PET thermoform material."
As part of the collaborative PET thermoform project, RRS developed best estimates of PET thermoform generation and recovery based on industry data and NAPCOR recovery data. The data places PET thermoform recycling at 9% of the approximately 1.6 billion pounds generated in the U.S. and Canada. By contrast, PET bottles had a 2019 recycling rate of 27.9% in the U.S., according to NAPCOR, and 35% for North America (U.S., Canada and Mexico combined).
Reclamation bottleneck
PET thermoforms are recycled through residential curbside and drop-off collection programs. When the collected PET thermoforms get to the materials recovery facility (MRF), they are typically sorted optically into a PET bale (along with bottles) and marketed to PET reclaimers. RRS estimates that MRFs with optical sorting capabilities represent an estimated 70% of U.S. recycling processing capacity. In MRFs without optical sorting capabilities, PET thermoforms are typically allowed to flow into a mixed plastics bale, from which they may be recovered or sorted into residue.
According to data published by FPI, at least 10 PET reclaimers in the U.S. and Canada purchase bottle bales containing some proportion of thermoforms. Most of these markets set an upper limit percentage of thermoforms that may be included in a bale, typically 5% to 10%, though some have even lower thresholds. These limits are based on tolerances for thermoform material when processed along with bottles into RPET flake or pellets.

The collaborative PET thermoform study found that PET thermoform recycling is also limited by inconsistent messages in the marketplace. In addition, MRFs and the communities that supply them are not incentivized to encourage residents to put thermoforms in the bin for fear that the proportion of thermoforms will be greater than the 10% of bale content acceptable to reclaimers, and therefore create marketability issues.
And why are those thresholds in place? In short, PET thermoforms behave differently than bottles as a result of some basic properties of the thermoform material and some of the other associated materials in the stream. (See the story below for more details on these issues.)
These reclaimer thresholds currently represent a bottleneck in the PET recovery system. The market is seeing larger volumes of material generated within communities, and greater RPET demand downstream. But processing constraints hinder the critical connection between supply and demand.
"The Association of Plastic Recyclers recognizes the tremendous potential to recycle PET thermoforms. We are actively working with our members to overcome these challenges to recovering and processing higher volumes of them," noted Steve Alexander, president and CEO of the Association of Plastic Recyclers (APR owns Resource Recycling, Inc., publisher of Plastics Recycling Update). "We are exploring and facilitating solutions that will enable more PET reclaimers to accept increased thermoform material, dependent on process technologies and end markets."
Alexander also explained that most PET reclaimers of curbside material are currently successfully processing PET thermoforms with bottles, as long as the thermoforms remain a relatively small proportion of the stream. Additionally, there are systems now in operation or planned to process thermoform-only streams, bringing that material back into new thermoform packaging. (Some PET reclaimers also report that they routinely process bales containing thermoforms but do not explicitly include thermoforms in their bale specifications.)
Meanwhile, thermoform-only bales have emerged in environments where bottle deposit programs define the markets for PET – in these instances, there are few PET bottles in the MRF stream and lower values for non-deposit PET bales. There are currently at least three outlets purchasing thermoform-only bales: one in California and two in Mexico. These downstream entities have the potential to consume a larger volume of PET thermoforms originating from California and beyond.
Possible points of intervention
The collaborative PET thermoform study defined several possible pathways for thermoform recovery, which involved sorting of PET thermoforms into a separate stream, and differed in terms of where that sortation step occurred (at the MRF, reclaimer or plastics recovery facility) and the reclamation process (in a blend with bottles or as a thermoform-only stream).
"The main challenge is that the conventional PET reclamation process is designed to handle bottles, with historically limited processing of thermoforms," said Darrel Collier, executive director of the National Association for PET Container Resources (NAPCOR). "With the growing percentage of PET thermoforms in bales over time, some reclaimers have found methods to process these packages with bottles, while others are forging new operating methods to process exclusively thermoform material."
Various members of the PET recovery value chain were surveyed to determine their attitudes, questions, and practical concerns related to each of the possible pathways. The project report highlighted several key findings related to each channel:
MRFs: Sorting PET thermoforms separately at the MRF would require relatively few modifications to each individual site and is technically straightforward; however, adopting this practice at scale would require the engagement of hundreds of MRFs.
PET Reclaimers: There are several potential interventions at the reclaimer level that could increase thermoform recovery. A reclaimer-based approach has the advantage of involving fewer points of intervention and has lower marginal costs because additional parties, baling and transportation steps would not be required. However, alterations on reclaimer lines are potentially more technically and commercially challenging than changes at MRFs. Additionally, PET bottle reclaimers surveyed expressed reservations about the impact to their business model.
Plastics Recovery Facilities (PRFs): Sortation of PET thermoforms at a PRF could expand access to a broad region with one large, targeted investment and could leverage interest in other resins. But survey respondents said the PRF approach was seen as posing the greatest hurdle, given the historic challenges around the secondary sorting business model, the high capital investment that would be required to build this infrastructure, and the high marginal system cost.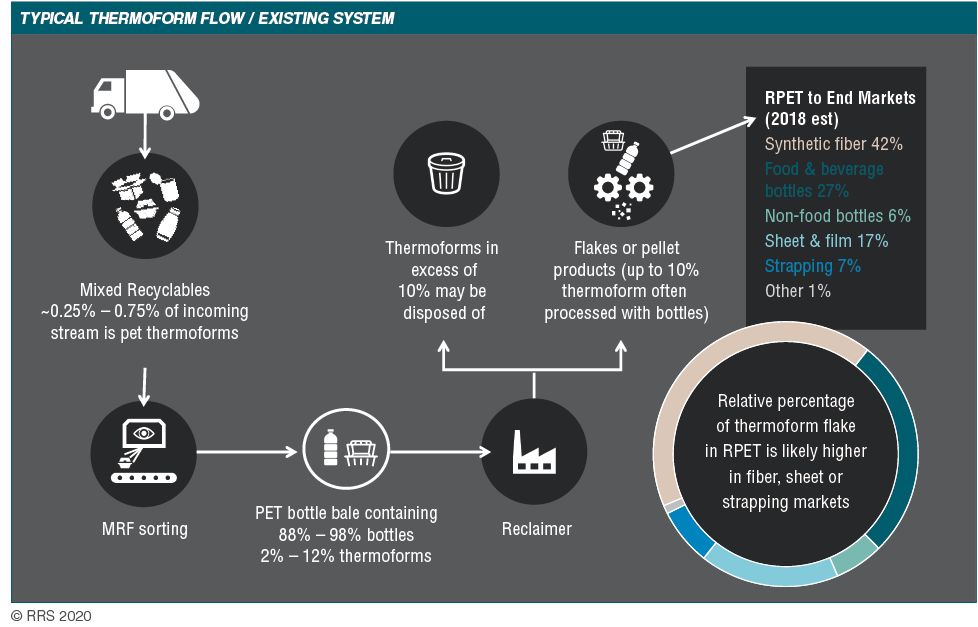 Despite the documented challenges, increasing the recycling of PET thermoforms offers an opportunity to increase the amount of recycled PET available to meet the industry's growing demand.
Currently, demand for recycled PET outstrips supply and that gap will likely only get worse. Brands are seeking to increase the use of recycled PET in new packaging, and increasingly states are mandating the use of recycled content in PET. Economic drivers for the use of recycled PET in fiber markets (carpet, for example) are strong, and currently fiber makers use more than 40% of the RPET available in the market. Using recycled resin from thermoforms in non-bottle markets will allow for more PET bottles to be recycled into new bottles.
As noted, to the extent they are recycled, PET thermoforms are usually recovered alongside bottles at small percentages and to limited markets. That dynamic has started to change in the last two years, particularly in California, where a competitive market for thermoform-only PET bales has emerged.
Today, PET thermoform-only bales are trading at a higher price than B-grade (curbside) PET bales generated in California. This trend toward higher purchasing prices could be a key driver for MRFs to adapt their systems to produce thermoform bales.
This dramatic shift in the marketplace has been sparked by the concerted effort of supply chain stakeholders in California and a clearly defined demand pull. Public commitments to use thermoform-derived recycled PET in new packages by companies such as fruit grower Driscoll's have given an incentive to PET reclaimers to adapt their systems to process post-consumer thermoforms into new thermoforms (in April of this year, Driscoll's committed to increase its usage of RPET derived from recovered clamshells).
Next up: Pilot projects
The collaborative PET thermoform study was a first step in bringing stakeholders together to find a solution to open the thermoform recycling market. It identified several areas requiring further research, including sorting technologies and practices, end market acceptance/tolerance, and processing system adaptations.
In addition, it is clear from the project findings that overcoming the barriers to PET thermoform recycling will require a clear business case for MRFs and reclaimers, driven by strong and consistent market signals to justify additional effort and investment.
The partners of the collaborative PET thermoform project see the recent work as the first phase in a larger effort to increase PET thermoform recovery. Currently, planning is underway for Phase 2, which will conduct pilot testing of several of the pathways identified to gain a more thorough understanding of feasibility and cost and to address some of the challenges described above.
The goal of this work is to inform prioritization of interventions and to guide investment to scale up PET thermoform recycling, which would be the focus of a third phase of the collaborative effort.
Resa Dimino is a senior consultant at RRS and can be contacted at [email protected]. Catherine Goodall is also a senior consultant at RRS and can be contacted at [email protected].
Moving toward 'Widely Recycled'
By Steve Navedo
Consumer guidance from the recycling industry often goes something like this: "If you are not sure if something is recyclable, don't put it in the recycling bin – because it's better to not recycle than to attempt to recycle a contaminant."
That advice is critically important for protecting the materials that have well-developed and cost-effective routes of flowing through the recycling stream. But it also raises a dilemma when trying to bolster recycling of a material such as the PET thermoform, which holds great opportunity for development in the recycling marketplace but which needs more clarity about its acceptance in local programs.
This article will explore the fundamental issues that have led to barriers in terms of bringing more thermoforms into the plastics recycling system. It will also offer advice for addressing these problems.
Technical considerations
There are technical-level recycling differences between a clear plastic bottle and a clear plastic clamshell, and this is the first hurdle in growing thermoform recycling in the U.S.
First is the inconsistency of plastic resins used in manufacturing thermoforms – this is one of the biggest reasons thermoforms are not universally recycled. Although PET is the recycling industry's preferred resin, the percentage of thermoforms made from OPS (oriented polystyrene) is still significant. In addition, some thermoform manufacturers use other PET look-alikes, such as PLA, PVC and PETG.
Labels and glue stand out as another critical technical issue. There is little uniformity in the labels used on thermoformed plastic containers, and this variation in label choices includes the continued use of recycling-unfavorable paper labels. For the purposes of PET recycling, the most advantageous label substrates are polyolefin-based, most commonly polypropylene. This is because the PP will float in water, whereas PET will sink, facilitating separation during wash in the reclamation phase.
Additionally, the glue used on thermoforms is much more aggressive than glue used on bottle labels. In many cases, the glue extends to every square inch of the label, making it more difficult to remove from the PET container (or the PET flake once ground). The residue from adhesives also has a tendency to taint the water solution used in washing the PET flake.
The third area of technical concern is intrinsic viscosity. The IV, a measure of a plastic's tensile strength or elasticity, for PET thermoforms is generally low compared to that of PET bottles, creating challenges when bottles and clamshells are processed together. However, the IV of the post-consumer thermoform regrind can be increased after washing – by solid-stating in the decontamination and upgrading stage – to accommodate end use applications, such as PET bottles, that require a higher IV than the IV of the sheet used to manufacture the thermoforms.
Finally, the thinness of thermoform containers causes a "bulk density" concern in the reclamation process (this issue is also seen when processing single-serve water bottles). Plastic bottles and containers are ground into flake form prior to washing, and if the flakes are too light, they have problems flowing readily through the wash process.
Reclaimers can mix and blend the lighter regrind with the thicker bottle flake to raise the overall bulk density. In this step, the blending needs to be vigorous to create a homogeneous mix to prevent slugs of varying bulk densities going through the system. Alternatively, reclaimers can modify their wash lines to compensate for higher percentages of lighter regrind.
Learning from the bottle sector
The beverage industry has used a "triple bottom line" approach to the plastic packaging debate for much longer than the "non-bottle rigid" community. In the process, beverage container stakeholders have invested time and money, both pushing back societal attacks, as well as actively collaborating with the recycling industry. A clear market for recycled material also developed: Thanks to direct food contact approval, label testing, light-weighting and bottle bills, plastic beverage bottles catalyzed post-consumer plastics' entry into direct-contact food packaging.
In short, the plastic beverage bottle industry set a standard for post-consumer plastic recycling. In the late 1990s The American Plastics Council (today, the Plastics Division of the American Chemistry Council) created the All Bottles Program. Since 95% of all plastic bottles were made of recycling friendly PET or HDPE at the time, a simple public message to recycle all plastic bottles was employed. Unfortunately, this strategy worked to the detriment of communicating recyclability for all other plastic packaging, including PET thermoforms.
Today, virtually every recycling program accepts PET and HDPE bottles for reclamation. This development should serve as a template for other non-bottle plastic rigids. Specifically, thermoformed PET plastic packages must achieve social acceptance as "recycling friendly," comparable to the technically compatible single-serve plastic water bottle. In partnership with relevant stakeholders, PET thermoforms should, at a minimum, move beyond How2Recycle's "check locally" classification to the "widely recycled" status held by plastic beverage bottles.
In developing a plan for progress, it's smart to ask the following question: How did plastic beverage bottles become the preferred recycling package? As noted, the beverage industry collaborated with the plastics recycling industry. For instance, both Coke and Pepsi were long-standing members of the Association of Plastic Recyclers (APR) Technical Committee. The beverage giants discussed, negotiated, and came to terms with the technical hurdles that challenged the recycling industry.
A number of examples underscore the work done to ensure bottle recyclability. Bottle makers eliminated the big black HDPE base cup that served as the pedestal of highly popular 2-liter containers. Aluminum caps gave way to PET recycling-friendly PP caps. Paper labels vanished, replaced by PP labels, which eventually became smaller and more transparent. The practice of using heaps of glue was replaced with a couple of strategic dots of adhesive.
This type of recycling-oriented product modification, on a collaborative stakeholder level, is the paradigm shift needed for the thermoform industry to overcome pushback from the recycling community.
A growing need for material
Although the recycling industry demand for post-consumer thermoforms remains murky due to technical challenges, the demand for recycled PET (rPET) is crystal clear.
Brand company commitment for increased post-consumer content in packaging has never been higher. Many consumer-goods companies and retailers have committed to increase recycled content in their packaging to an average of 25% by 2025, compared to the current global average of 2%, according to the Ellen MacArthur Foundation.
As the most recycled plastic globally, PET is the key to increasing recycled plastic content in packaging, particularly in food packaging. Regrettably, the U.S. recycling rate for PET plastic bottles remains stagnant, under 30%, which is not nearly enough to satisfy the CPG demand for recycled content. Today, over 1 billion pounds of PET is used annually to manufacture sheet and film – this supplemental volume of available post-consumer plastic can no longer be ignored.
The plastics industry and its partnering stakeholders must venture their recycling efforts beyond just plastic bottles, and step up their accountability for responsible after-use management of plastic packaging. Failing to do so invites extended producer responsibility mandates for packaging. PET thermoforms are "low hanging fruit" for plastic recycling, with the potential to add hundreds of millions of quality pounds back into the global rPET supply stream.
Recovering the thermoform material will require a collaborative stakeholder value chain. Ultimately, each stakeholder compromise will promote the greater good of higher plastic packaging recycling rates. In addition, the intrinsic cost for recycled content should be proportional to the commercial benefits earned from post-consumer recycling's halo effect.
Time for coordinated outreach
Below is a look at the six key stakeholder groups in thermoform recycling and what each category requires for greater engagement:
Consumer: Consumers are the ones who choose whether or not to move material into the recycling system to start with, and they need an education campaign that explains PET thermoforms are recyclable and collected in their community for recycling. This education could be complemented by a widespread "Buy Recycled" marketing blitz (the Foundation for Plastic Recycling has in fact already begun a "Buy Recycled" effort.)
Materials Recovery Facility: Outreach to MRFs must stress that there is a viable domestic market for collected thermoforms, either in segregated bales or contained at a designated percentage in post-consumer PET bales. At the same time, increased grant opportunities from government and industry could encourage additional investments to accommodate an increased PET thermoform collection stream.
Reclaimer: At the reclaimer level, operators require assurances that increased PET thermoform volumes will lead to ROI that justifies upgrades made to existing PET recycling operations, including the addition of thermoform-dedicated recycling systems. Reclaimers all need to be confident that incoming material supply will fulfill benchmarked quality specifications.
Converter/thermoformer: Sustainability awareness and technical collaboration with packaging design engineers is necessary to create more recycling-compatible package designs. Also necessary is outreach encouraging converters to incorporate more post-consumer content in their packaging, with favorable awareness of post-consumer resins' distinguishing quality specifications and pricing structure. It is important to mention that post-consumer resin is not a traditional "commodity" because product quality and specifications are source dependent. Post-consumer resin is more akin to a value-added "specialty resin" than it is to an ordinary commodity.
Brand company: Brands also need outreach to push them to incorporate more post-consumer content in their packaging, with a favorable understanding of post-consumer content specifications and pricing structure.
Retailers: Retail stakeholders need to require vendors who want to sell in their stores to use rPET or PET with recycling friendly labels in their thermoformed packaging. It's also worth noting that employees working in supermarkets are often the direct recipients of consumer complaints over plastic packaging. At a minimum, they should be able to reply that their packages are recyclable in their own community.
Unfortunately, consumers are at a disadvantage in their understanding of "what is" and "what is not" recyclable. Many do not know that PET thermoforms are 100% recyclable. Ultimately, the public is restricted to those postconsumer materials their local recycling programs are willing to pick up.
The beverage industry's current "Every Bottle Back" campaign reflects a commercially preemptive prototype that should put them in good stead as legislative mandates are developed. The thermoform industry, as such, has never organized a national ecocentric promotion. It is not practical to deliver a national recycling message for thermoforms while they fall under that mixed bag of recyclables accepted or rejected for collection at the local level.
Unfortunately, thermoforms do not benefit from a centralized deep pocket benefactor group, as the beverage industry's endorsement of plastic bottles. However, thermoform packaging can benefit from the collaborative stakeholder strategy described above. This value chain is robust enough to effectively increase post-consumer plastic packaging recycling rates and divert millions of pounds of scrap plastic waste from our lands and waterways.
Unleash the arsenal
If extended producer responsibility policies take hold in the U.S., as is expected, and corporate stakeholders are held responsible for the after-use management of their packaging, it behooves them to take the lead on this effort and administer programs that are effective and sustainable for the consumer, the environment and their businesses.
Client stakeholders must demand sustainable goods and services from their suppliers and service providers. It is critical for corporate stakeholders to exhibit responsible service and product stewardship while remaining actively engaged in the regulatory process.
It's also worth noting that a national bottle bill would increase the recycling rate and cure the supply shortage for the recycling industry, but concurrently such a system would remove reclaimer incentive to accommodate thermoforms into the recycling stream. Further, beverage industry resistance to a national deposit proposal would suck up significant resources, money and time better spent in helpful collaboration than in steadfast opposition. Moreover, the post-consumer thermoform waste problem would still exist.
Voluntarily increasing thermoform package recycling is one key step to address the plastic waste problem, and it is in the best interest of the plastics, food, CPG and recycling industries to make this happen now.
A common saying in the recycling industry is that "there is no silver bullet" to fix the post-consumer plastics problem. This rings true for the issue of increasing thermoform recycling: Any effort should incorporate a full arsenal of environmentally sound, economically practical and socially sustainable strategies. Hopefully, deployment of a variety of complementary efforts will culminate with an unconditional "Widely Recycled" label on every clear plastic PET thermoform.
Steve Navedo is a corporate sustainability veteran who has dedicated over 30 years to plastics reclamation, sustainable packaging and promoting the growth of the nation's recycling infrastructure. Currently an independent consultant, he is president of the Navedo Management Group and can be contacted at [email protected].