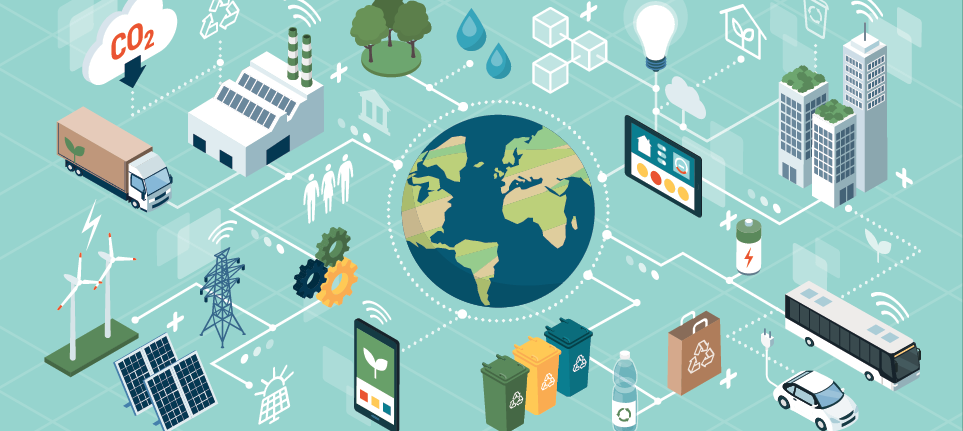 Mid-size cities, like Baltimore, are at a decisive inflection point when it comes to economic development.
An early beacon of commerce and a vital crossroads of trade and community, Baltimore was a central player in the U.S. move toward independence and subsequent industrial revolution. Today, like so many urban areas across the United States, Baltimore faces complex challenges, including population shifts and economic recovery. Earlier this year, U.S. census data revealed that Baltimore's population fell below 600,000 for the first time in a century.
But with the right investment in infrastructure and manufacturing, as well as public-private collaboration, cities like Baltimore are poised to make a comeback as a model for viable sustainable cities at the center of a new revolution in industry: the circular economy.
Building a more efficient system for recycling
Solving our waste problem – especially our plastic waste problem – can't happen without dedicated investment in our recycling infrastructure. The more recyclables that are collected, sorted and cleaned, the more opportunities manufacturers have to provide these products a second or even third life.
Yet it's estimated that around 34 million rural homes and 16 million apartments – or 40% of the households in the U.S. – don't have easy access to recycling where the process begins: the collection phase.
That's why work being undertaken in Baltimore and other areas by national nonprofit group The Recycling Partnership is vital. Working together with private sector funders and local governments, The Recycling Partnership provides hands-on training and education campaigns to work with the Baltimore community to decrease contaminated waste and increase viable materials for reuse.
Further, recycling carts will be distributed to every eligible household this spring, free-of-charge to city residences. This initiative is expected to increase recycling in Baltimore by an estimated 20,000 tons a year, or nearly 200 pounds per household, representing a critical opportunity to scale environmental action while creating a healthier, cleaner community.
In addition to behavior change programs that increase recycling, cities also require investments in infrastructure and manufacturing.
Following the Biden Administration's recently announced $2 trillion infrastructure plan, which includes a focus on sustainability, recycling stakeholders have a unique opportunity to develop innovative technologies that complement existing mechanical systems. To unlock this potential, however, investment in material-science innovation is crucial. Currently, only 9% of the plastic made each year is recycled, due to recycling systems that often only serve limited types of plastic, usually PET and HDPE.
That's why technologies referred to as chemical recycling or "advanced recycling" are so exciting; through these manufacturing processes, we could turbocharge recycling rates, harnessing the system's ability to process a wide range of plastics and capture a broader stream of waste.
Incentivizing innovation and design
Innovation for sustainability, like advanced recycling, takes imagination and a long-term vision. We've seen this in our quest to redesign energy infrastructure (from coal to renewables, for instance) and in burgeoning design concepts for products. Examples include the development of resealable, recyclable pouches as well as the first recycled plastic resin for shrink film applications in North America to meet market demand for more recycled plastics in brand products (Dow announced that recycled film resin last October).
Another example of design innovation can be seen in the coffee sector, where metallization barriers are typically used in packaging to preserve aroma. This need, however, has led to multi-material bags that are not usually recyclable. Dow helped to solve this challenge for the progressive Colombian coffee brand Café Pergamino by developing a metallization-free packaging solution. Now, Café Pergamino's packaging material can fit neatly into the well-established recycle stream that already exists for polyethylene, without compromising the aroma and flavor of their coffee blends (the packaging maintains performance characteristics like high levels of barrier against moisture and oxygen that are necessary to package coffee products).
Realizing a circular economy requires adjusting our thinking to view plastic and other packaging not as waste, but as materials that are too valuable to be lost in the environment or a landfill. With this mind-set, companies can be empowered to design products for circularity and provide a new life for used plastics.
Public and private sector collaboration
To realize our vision for vibrant, sustainable cities that are at the center of the circular economy revolution, collaboration between public and private sectors is key. NGOs and other organizations supported by individual donors or funded with grants from private sector companies offer local governments an opportunity to springboard entrepreneurial concepts and pilots into scaled public systems that may otherwise go unnoticed under strained resources.
An example of success is Amsterdam Smart City, a platform geared toward bolstering the environmental and health attributes of the Netherlands' biggest metropolitan area. The idea was originally launched by local entrepreneurs with a small grant, and today the group has become a key government partner to drive impact.
We're seeing this same model through Dow's work with São Paulo, Brazil's largest waste producer, where hundreds of workers and their families have access to improved training and resources to support public recycling systems. In the first year of the training initiative, in collaboration with the local cooperatives and the existing waste management program, productivity rose by 37% and cooperative workers saw an increase of 35% in their wages.
Imagine an urban area that has an efficient recycling collection system, supported by an active sustainability-minded community, with access to cutting edge, sustainable manufacturing.
In Europe, this future is already underway in countries like the Netherlands, where technology company Fuenix is supplying Dow with feedstocks made from hard-to-recycle plastics to create new polymers for food packaging and other items. These products can be used for all the same applications where plastics are used today, reducing the need for downstream equipment modifications or costly new product qualifications.
Our circularity road map is clear: We need to invest in recycling systems, incentivize innovation, and expand impact through public-private partnerships. Then we make sure all those materials get turned into new products that benefit society. We're using resources at an astonishing rate, one that is outpacing the world's ability to replenish itself within our lifetime. But we don't have to sacrifice our quality of life.
By building a more inclusive, circular economy – like what's just getting started in Baltimore – we can capture the value in used plastics, recycling those materials into new products of all kinds, and reimagining impact in our cities. Join Dow and partners in the circular revolution.
Jeff Wooster is global sustainability director at Dow.
This article appeared in the Spring 2021 issue of Resource Recycling. Subscribe today for access to all print content.