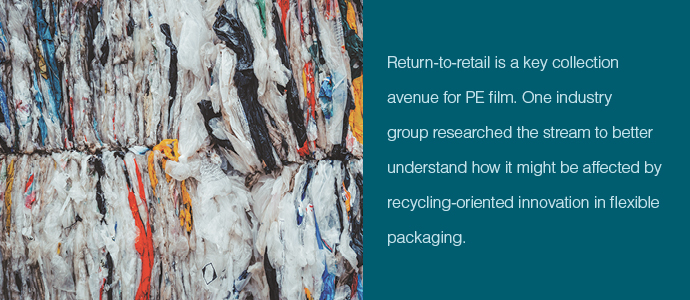 This story originally appeared in the Fall 2020 issue of Plastics Recycling Update. Subscribe today for access to all print content.
As brands and retailers seek to meet recyclability goals, flexible packaging is far and away the biggest challenge.
Innovation is happening at a rapid pace to ensure more of this material can be included in the established store drop-off stream currently used for PE films. Packaging makers, for instance, are developing recycling-oriented solutions in areas such as EVOH, vacuum-deposited metallization, PE/PP resin blends, spunbonded PE (Tyvek), nylon, and additional combinations and variations of these innovations.
But with so much activity happening so fast, a natural question arises: Will the existing store drop-off system be negatively impacted if significant tonnages of these new material types move into the stream?
The How2Recycle program issues recyclability labels for over 225 products per day; of those, about 10% include the Store Drop-Off label. In order to ensure that these increasingly sophisticated and fast-proliferating innovations can in fact be labeled as recyclable via store drop-off, How2Recycle needed to learn more – so the organization conducted a nearly three-year study to understand the relevant issues in greater detail.
Bringing samples together
The study design focused on two key areas: getting a clear picture of the current store drop-off stream and understanding the potential of certain PE film innovations to be successfully added to that stream.
How2Recycle's goal was to identify the best way to assess PE film innovations against the existing stream in order to set a standard for store drop-off recyclability. The process included on-site PE film recycler visits as well as extensive testing of both current store drop-off material and specific PE film innovations. How2Recycle's third-party lab partner was Plastics Forming Enterprises, and the team generated a significant amount of quantitative data that could be closely analyzed.
First, bales of store drop-off material collected at three different retailers across the country were broken up and inspected, with the types of packaging formats and contamination in the bales noted. That sorted material was processed into pellet and studied.
Second, an array of specific PE film innovations, along with resin controls, were sent to PFE for analysis. This material was processed into pellet, parts and film, reflecting different end applications for recovered PE. How a material performs in different applications influences who will buy the material, and for what reasons. Additionally, different end applications highlight different qualities of a material, painting a full picture of its character.
The data points from all these lab tests were closely analyzed in accordance with the APR Critical Guidance Protocol for PE Film and Flexible Packaging.

Digging into the existing stream
A key initial finding on the current store drop-off stream is that it's very diverse due to the wide variety of packaging formats in it.
For instance, the store drop-off stream contains both "back of house" material (predominantly LDPE stretch wrap from pallets in retail or distribution center operations) and "front of house" material, all of which comes from consumers and includes shrink film, case wrap, air pillows, e-commerce mailers, pouches and HDPE carryout bags. Of all the front-of-house films in the bales studied, about half of the volume was made up of carryout bags.
This leads to a big variety of PE densities in the stream. Additionally, the behavior of retailer employees can contribute to variability in the material bale to bale within a single location or across different retail locations.
PE film recyclers manage this diversity in various ways. They may adjust their purchase strategies, add quality control processes, or leverage certain equipment to achieve the desired density mix.
Contamination in the store drop-off stream typically includes PET bottles and trash placed in the front-of-house retail collection bins. This is likely due to infrastructure (no trash bins or other recycling receptacles nearby, for example) or clarity/size of signage.
In all three bale audits, there were no plastics carrying the How2Recycle Not Yet Recyclable label. This suggests that on-pack labeling is effective in encouraging correct store drop-off recycling behavior and in discouraging contamination.
When it comes to the back-of-house plastics, most contamination comes from non-film items such as hangers, pallet strapping and rigid plastics from deli operations. This is likely due to insufficient training of employees at the retail location. The contamination may also be tied to PE film recyclers not enforcing or struggling to enforce their own bale specifications.

Findings from processing tests
When the samples from retail sites were processed to the pellet, part and film stages, a number of notable facts revealed themselves.
All samples showed a large percentage increase in extrusion pressure when creating pellet from the material. Carryout bags, in addition to having the "highest" performance of physical properties (based on recycler feedback that strength is desirable), also carried the highest ash content due to the widespread presence of mineral fillers in shopping bags.
In regard to melt temperature, there were observed secondary peaks for all materials, suggesting material other than PE was in the store drop-off bales. No stable runs for film production at a thin gauge were achieved for any of the variables in a lab setting, although film can successfully be made with this material at a thicker gauge.
The processed samples from the store drop-off stream contained various visual impurities, as evident in the photos accompanying this article.
From there, our research team moved to the samples of different PE film innovation.
While the ideal result of this study would have been the plotting of a variety of innovations on a spectrum of recyclability or providing confident guidance on maximum allowable percentages of innovations in PE films, How2Recycle is unable to draw sweeping conclusions about a broad innovation category (like EVOH) at this time. There are several reasons why.
Some innovations are better performing in recycling than others, but no innovation category studied as a whole is "definitely OK" or "definitely not OK" for store drop-off.
Some films studied showed superior material properties as compared to the store drop-off stream, and some films studied showed decreased material properties.
Further, the research found that when you increase the concentration of an innovation in a film structure, it doesn't necessarily mean that the recyclability impact from that innovation will be proportionate to the increase. In some cases the impact may not increase at all.

There can also be notable variability of recyclability within an innovation category. For example, some EVOH films performed better than others, though it was not immediately clear why.
Importantly, How2Recycle learned that innovations cannot be analyzed in a vacuum: The film structure as a whole (including components like tie resins) impacts test results. It was not anticipated that tie resins would make a noticeable difference in the recyclability of the films, but they do appear to play a role.
Interestingly, all innovations increased tensile strength and elongation at yield in film production compared to the store drop-off stream. But all innovations decreased tear strength and impact failure weight compared to the store drop-off stream. The innovations studied did not meet the APR Critical Guidance test specifications.
The nylon films did perform visibly "worse" than the other innovations, but the rest were "near meeting specification," with one EVOH film clearly in the lead. They all nearly were in specification, in different ways.
The films studied are not vastly different from one another in the big picture. However, they do present marked differences when studied closely in comparison. While no one innovation in isolation would be catastrophic, these innovations are cumulative and need to be evaluated with that in mind. If companies optimize the use of innovations relative to performance and recyclability in the R&D process, all films studied stand a chance at store drop-off recyclability.

Settling on a test protocol and next steps
How2Recycle is pleased that learnings from this work now enable the program to adopt a transparent, data-driven test protocol for store drop-off recyclability: the APR Critical Guidance Protocol for PE Film and Flexible Packaging. In order to be eligible for How2Recycle's Store Drop-Off label, PE film packaging containing certain innovations will be required to undergo testing in line with that Critical Guidance protocol.
Why did How2Recycle select this protocol in particular? Store drop-off material currently goes into a variety of end applications – composite lumber and plastic bags, for instance – so a test protocol must contemplate those applications.
Publicly available figures differ about the relative volumes of material going to lumber and bag applications, so How2Recycle must consider both in determining a test standard. In many but not all parameters, a bag application is more demanding than a composite lumber application. For this reason, if How2Recycle set the standard at the "lower" quality level, then the material may struggle to meet the needs of the "higher" quality level required by film applications.
At the same time, it's important for the industry to continue to develop a greater understanding of evolving film packaging attributes and their potential impacts to PE film recycling. Some areas of packaging innovation to keep an eye on: cross-linked, BOPE, tie layers, adhesives, sealants, and ink systems.
More data about these attributes will clarify the true cruxes of PE film recyclability and enable the development of more industry R&D guidance. Companies are strongly encouraged to share test results of PE film structures with any of these attributes with APR to facilitate the expansion of the APR Design Guide for PE film.
It's important to also remember that shifting export conditions and other factors make this stream more fragile than other more mature recycling streams, so a cautious approach in packaging innovation is warranted.
Finally, there is a need for stronger end markets for collected PE material, and part of this improvement would be a more diverse set of end users. Recycling streams are healthier when more recyclers are competing for the material and developing innovations for different end applications. Improvements in the incoming feedstock quality could potentially help push market progress. If the material in the store drop-off stream is of sufficient quality to enable that material to go back into film applications, more end markets may naturally develop.
Thinking beyond a single collection channel
This study was focused on better understanding the store drop-off stream currently and how it could be impacted by innovations that are underway in the PE film sector.
But as stakeholders consider the recyclability of PE films both now and in the years ahead, they would be wise to also consider collection paradigms beyond store drop-off. The store drop-off system only has limited ability to help solve the packaging industry's end-of-life challenges with flexible packaging over the long term. Demand for this material and well-documented drop-off collection issues (consumer convenience and reliance on retailer participation, for instance), along with the enormous volumes of flexible packaging that are being produced, suggest a broader suite of recycling solutions will be needed.
Additionally, some packages are altogether ineligible for store drop-off because of product contamination. Accordingly, How2Recycle recommends that brands, packaging producers and resin manufacturers critically analyze what wide-reaching collection, sortation, reprocessing and market mechanisms and investments are required to scale recyclability of flexible packaging for the far future.
Kelly Cramer is lead of How2Recycle and director, program management at GreenBlue, the organization that runs How2Recycle.