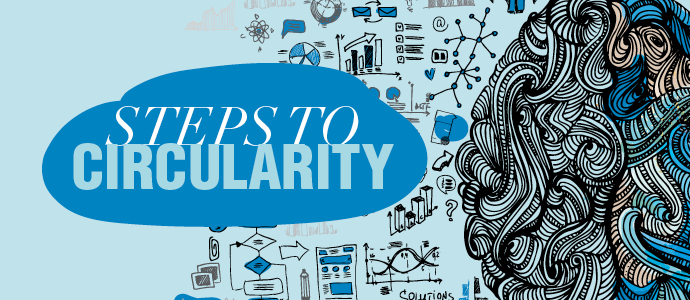 This special section originally appeared in the Summer 2020 issue of Plastics Recycling Update. Subscribe today for access to all print content.
It's easy to get behind the idea of a circular economy. Collect the packaging and other products out in the market, use this feedstock for clean manufacturing, create local jobs, cut down on waste and costs. The theoretical benefits go on and on. But putting the concept into practice is far more complicated. Powerful economic forces and decades of "business as usual" have driven society's use of virgin materials and created barriers to significantly grow recycling. It's clear that to actually put circular economy thinking into action, smart use of collaboration, policy and planning will be critical. On the following pages, we outline two models – one from an industry group, another from academia – that help chart a path forward to circular progress.
Taking on the system
By Ali Blandina
We know that the world needs a circular economy now more than ever. Cities are looking for ways to meet the expectations of residents and handle materials efficiently. Many companies, meanwhile, have ambitious packaging sustainability targets to meet in the coming years.
In our 2019 "Bridge to Circularity" report, The Recycling Partnership provided a clear roadmap to improve recycling, one of many steps needed to move the U.S. toward a circular economy so many stakeholders are hoping to see materialize. It's clear, however, that transitioning to a circular economy requires systems change.
That's why we're excited about our new initiative that can guide next steps: The Pathway to Circularity.
The Pathway to Circularity provides a methodology and approach to problem-solving that will address the limitations associated with the recyclability and circularity of certain packaging materials today. This action-oriented and solutions-based initiative navigates current and future packaging and recycling system challenges.
Additionally, one of the principal features of the Pathway to Circularity is that it is a "living" roadmap, one that can evolve and take into account shifts in innovation, market realities and uncontrollable external factors (like a global pandemic). It is designed to be a dynamic tool, with the flexibility to grow and shift with us, as the system of the future is being built.
Bringing clarity and depth to decision-making
Navigating the recycling industry can be tricky, in part because there are currently a lot of gray areas and concepts. There are certain industry standards and thresholds that do not exist, and no one place that shows the concrete steps needed to achieve circularity and true recyclability for materials or packages.
One example is this common question: What does successful sortation at a recycling facility look like? Currently, there is no threshold or standard for "successful sortation." The Pathway to Circularity is intended to wash away the gray and bring needed clarity to enable more stakeholders to successfully navigate and advance the circular economy.
Currently, the Pathway to Circularity is focused on recycling and circularity through municipal collection programs, whether curbside or dropoff. For packaging, a gold standard in the industry today is being deemed "commonly accepted" for recycling. However, many different considerations come to mind when one thinks about a material or package being commonly accepted.
Access, sortation and end markets may be a few concepts that come to mind. But should we be thinking about these as separate check boxes, or should we highlight how interconnected and interdependent recycling and circularity truly are? For example, instead of simply determining whether "access" exists in a given area, can we think deeper about what access means? Why does a MRF say it will accept a certain material or format? Usually this is indicative of conditions around end markets and material demand, but has that been fully investigated and understood?
The Pathway to Circularity initiative will strive to bring a new depth to these types of conversations and bring to light the interdependence of the varying factors that shape recycling and circularity.
While "commonly accepted for recycling" is currently the focal point of the Pathway, attaining this status for different materials is not an end point, but a milestone. For a material to remain truly viable in the recycling system, continuous evaluation and, at times, additional work will be necessary. There are examples in our industry today of commodities that have reached common acceptance in collection systems but that require additional action when it comes to increasing demand for the material in reliable end markets.
Each material in the recycling stream will have its own unique path and challenges. The Pathway to Circularity will provide a strategic assessment that guides efforts to address issues at each step in the recycling supply chain.

Progress via a council and coalitions
The Pathway to Circularity provides opportunities to advance circularity with various stakeholders working together. This is an important point because effecting meaningful system change across the U.S. requires industry alignment and consensus.
This industry alignment will be achieved through The Pathway to Circularity Industry Council (otherwise known as the Circularity Council), which includes industry leaders representing various material types, brands, cities and states, MRFs, and retailers. The objective of the Circularity Council, which met for the first time this summer, is to form a cohesive network to enable industry alignment, break down barriers, and catalyze system change. The Council will address core program principals, align on the overarching framework, and identify gray areas and other challenges.
Ultimately, the Council will define new industry thresholds needed to successfully navigate the recyclability and circularity of packaging materials today.
Furthermore, in order to improve the system, we must put a focus on individual materials. And this is not something any one organization or business can do alone.
The Pathway to Circularity methodology and emerging strategic assessment process provides the guidance to address unique challenges of specific packages and materials. It serves as a platform to enable pre-competitive collaboration to achieve recyclability through the creation of material and packaging-specific coalitions, which will discuss and solve these packaging challenges.
When formed, each coalition will have different and specific objectives – because each material is at a different place on the pathway to achieving circularity. However, the general pathway vision will remain constant. The material coalitions will aim to reach and/or maintain "commonly accepted for recycling" status for the material. The coalitions will also maximize recycling rates and post-consumer recycled content usage, as well as strengthen and expand end markets.
Getting to work on polypropylene plastic
The Pathway's polypropylene recycling coalition is an example of a material-specific collaboration that is helping to build the road to circularity.
Polypropylene (PP) is a valuable commodity that can be separated or commonly commingled with plastics Nos. 3-7. Recycled PP can be used to manufacture many different products, ranging from toys to yogurt packaging to coffee pods. End markets for this material are operating across North America, yet 3-7 bales (which include PP) are being dropped from community recycling programs.
Why? Although multiple factors are at play, MRFs do not generally have the capital to invest in the equipment, such as optical sorters and robotics, needed to capture more of this material. In addition, our data suggests that PP generation rates are as high as or higher than rates of some other recyclable plastics, such as HDPE. However, this information is not widely known or documented, leaving a knowledge gap regarding the volume of PP available for collection.
Through the polypropylene recycling coalition, industry leaders are collaborating to address this challenge head on.
The coalition will provide grants, conduct research and support education to increase curbside recycling access and recovery for PP. By working together, we aim to ensure PP is widely accepted for recycling and ultimately reaches a high recycling rate so it can be reused rather than wasted. The coalition will ensure that recycling facilities can sort PP successfully and maintain robust end markets. The aim is to supply high-quality recycled PP for use in packaging.
Overall, by improving PP curbside recycling programs, the coalition will preserve natural resources and continue to strengthen the circular economy in the United States for PP and all recyclables.
The start of transformation
We recognize our goal is a lofty one: It's the creation of a new system that empowers us to be the best possible stewards of packaging design and recycling so we can collectively create a world that values wasting less over consuming more. A lot more is needed, but this is the beginning of a massive shift toward a circular economy – for all materials, not just plastic.
It's also important to keep in mind that partnership is part of our name for a reason. We can reach this goal only by working with industry leaders and aligned organizations, including the Association of Plastic Recyclers and the World Wildlife Fund, and with the circular investment sector, led by Closed Loop Partners. And we'll do it with the help of the elected officials who are critical in addressing policies that are keeping recycling stuck in the 1970s.
Swift action is needed to protect natural resources and abate climate change. The Recycling Partnership stands ready to take on this challenge and calls on the many public and private sector stakeholders to join us in building the system of the future that will provide the foundation for a circular economy in the U.S.
Please contact us at [email protected] if you'd like to partner with us on these efforts to catalyze change.
Ali Blandina is the director of circular ventures at The Recycling Partnership and can be contacted at [email protected].
The local approach
By Kevin Dooley, Jacob Bethem, William Campbell and Carole Mars
Municipalities face challenges when trying to provide value through their waste management services. There is increasing pressure on communities to divert as much waste from landfill as possible, and local officials are also tasked with measuring and communicating their waste diversion performance to citizens and city government.
Today, in addition to fulfilling their traditional sanitation mission, municipal public works organizations are also expected to do business development, as residents and the local government expect them to create revenue and jobs for the city.
With these factors in mind, the city of Phoenix recently recently established the "Reimagine Phoenix: Transforming Trash into Resources" initiative in support of its goal to divert 40 percent of its waste away from landfill by 2020.
In order to explore different ways of measuring and communicating waste diversion and recycling success to the City Council and residents, the Phoenix Public Works Department partnered with the Rob and Melani Walton Sustainability Service and The Sustainability Consortium at Arizona State University to perform research on diversion metrics.
As part of that effort, the research team created a conceptual framework to help identify the steps that a city could take to improve waste diversion and recycling – or more generally, to become more of a circular economy in which we move away from the current linear model of make-use-dispose.
This article describes our "5S Model" for circularity in a city, which boils down to five tenets: support, serve, sort, save and sell.
It is a simple framework that communicates what a city can do to create a more circular economy. It can also be used to help a city plan its strategic waste management goals and actions; to identify strengths, weaknesses opportunities, and threats in existing programs; and to serve as a template for measuring circularity success.
Taking cues from world of public health
In seeking ways to think about success in circularity, our research team was inspired by the United Nations' UNAIDS 90-90-90 program.
AIDS is a complex and nuanced issue in which planning, measurement and communication are key factors. Traditionally, health care leaders articulate goals and progress with difficult-to-understand metrics, like mortality rates. UNAIDS identified a pathway to success for managing and treating AIDS. A person has to: (1) know they have HIV/AIDS, (2) get treated, and (3) get better. If all three happen, a successful outcome is achieved.
This campaign led to the UNAIDS 90-90-90 goal – 90% of people living with HIV will know their status; 90% of those infected with HIV will get treatment; and 90% of those treated will have viral suppression. It gave planners and leaders a simple way to think about and communicate what was needed for success.
We asked the same question: What are the steps that, if taken, will lead a city to be more successful in creating a circular flow of materials? Our 5S Model, shown in the figure on page 27, is formulated around those steps.
A model for circular success
Not to be confused with "5S" from lean manufacturing, our 5S Model suggests that circularity can be achieved by way of a clear path that takes into account a handful of important realities.
City residents have their own role in making a city more circular. First, they can purchase products with reusable or recoverable content. Second, they can purchase or own fewer products or purchase products with less packaging, which reduces waste. Finally, they can repair, refurbish and reuse the products they own.
Meanwhile, the city and its commercial partners need to provide convenient recovery channels for the recyclable material to be collected, and residents need to correctly sort their waste from recyclables. The city can also engage in additional activities that recover materials bound for landfill after being disposed by residents.
Finally, recovered material can be sold for revenue. If recyclers or remanufacturers are local, then it can also lead to local job creation.
The 5S Model takes those basic facts of material use and recovery and outlines five distinct areas where a municipality can take clear action.
Support: What can the city do through education, policy or public-private partnerships that can help residents purchase reusable, repairable and recyclable products and packaging?
Serve: To what extent has a city provided convenient and easy-to-use channels for recovering recyclable materials?
Sort: How well do residents successfully separate trash from recyclables?
Save: What additional steps does a city take to minimize waste to landfill?
Sell: What economic benefit does the city and its commercial partners gain from recovery and recycling of materials?

Implementing and measuring 5S
In this section, we will share some examples of how cities (and, in some cases, state governments) have implemented various elements of the 5S Model and how performance can or cannot be easily measured.
When it comes to "support," the politics and culture of a jurisdiction will shape to what extent it can drive regional change. Some cities are more aggressive in use of regulatory power or collaboration with the private sector.
For example, the city of Austin, Texas promotes repair through its Fix-It Clinics, where residents can find a repairer or learn to make their own repairs. Some cities and states have used financial (dis)incentives to reduce use of unwanted materials or to encourage their collection. For instance, San Francisco's plastic bag ban, enacted in 2007, is now effective statewide. In 2020, California has also made it illegal to offer plastic straws by default. Restaurants may only provide plastic straws upon request or face a $25 fine.
The measurement of the "support" dimension is more likely qualitative than quantitative. From 2001 to 2008, however, California surveyed its residents and organizations to measure landfill diversion. Activity such as use of e-billing or composting yard waste was counted toward an overall landfill diversion rate.
Moving to "serve," cities can make it easier or harder for residents to get recyclables successfully into a formal recycling stream. For example, San Francisco offers residents a free compost pail, free home hazardous waste pick-up, and a free program geared toward collection of medical waste and syringes. Medford, Mass., meanwhile, utilizes a pink bag for curbside clothing collection. And Boulder, Colo. created a Center for Hard-to-Recycle Materials (CHaRM) for electronics, a variety of plastics and miscellaneous materials such as concrete.
In order to measure the "serve" dimension, a city has to take into account the convenience of their programs. Is curbside pick-up the only channel to be considered convenient, or does a bin at a local shopping mall count? How far do residents have to travel to get to a specialty recovery facility for materials such as electronics or organics? Measurement of "serve" also requires the city define what materials are considered recyclable and whether it matters if the channel is being offered through a private entity, such as a service that picks up used carpet or building materials.
A number of possible actions fall into the "sort" section. Research shows that educating residents as to what can and cannot be recycled is a key driver of improving the sorting that residents do. In Phoenix, an auditing process is used to see how much contamination is in a household's recycling bin, and the resident either gets an "Oops" or "Shine On" sticker for the outcome.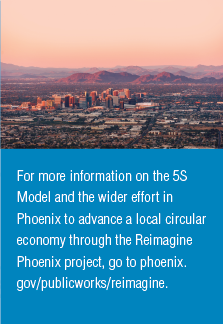 Success in the "sort" dimension is typically measured by two rates – percent of recyclables that contain non-recyclables and percent of non-recyclables that contain recyclables. Most cities or commercial partners pay more attention to the first metric, as this impacts the quality of recovered material, the cost to remove contamination, and the market price obtained for the recovered material. As with "serve," measuring "sort" requires a city to define what materials are considered recyclable in order to calculate rates. Planners also must determine whether to include bulk recyclables (carpet and e-scrap, for instance) or organics as part of the accounting.
This brings us to what cities can do to "save" additional tonnages from going to disposal. In Phoenix, the city has implemented a common-sense practice: If operators within the transfer station see a large heap of yard waste, they can extract it and send it instead to the organics composting stream.
Technological advancements could create more opportunities for more "save" actions. Last year, for instance, a sortation pilot project was established in Portland, Ore. to study the possibility of recovering mixed plastics from loads of residue at regional MRFs. The practice of landfill mining is also a strategy that has been discussed in different areas across the globe.
Finally, there is the need to "sell" the benefits of materials recovery to the wider community. The recent collapse of the recycling markets has decreased revenue for cities and commercial partners, making it harder for cities to justify continued operation of recycling. For that reason, it is important for cities to consider ways to change the dialogue from measuring revenue from commodity materials sales to measuring benefits like the number of jobs created through local remanufacturing. For example, in a recent report the Natural Resources Defense Council estimates that achieving a 75 percent recycling rate in California has the potential to create at least 110,000 additional recycling jobs.
The path to progress
A city can become more circular in its materials by (1) supporting the local circular economy through education, policy and public-private partnerships, (2) serving residents with convenient channels for material recovery, (3) educating residents how to sort materials correctly, (4) taking action to maximize recovery of recyclables or compostables, and (5) selling the recovered material for revenue, ideally locally so local jobs are created.
Kevin Dooley is chief scientist of The Sustainability Consortium and Distinguished Professor of Supply Chain Management in the W. P. Carey School of Business at Arizona State University. Jacob Bethem is a visiting assistant professor of sustainable business at the University of Redlands. William Campbell is a project manager at the Rob and Melani Walton Sustainable Solutions Service at Arizona State University. Carole Mars is director of technical development and innovation at The Sustainability Consortium. Contact the authors at [email protected].