A company planning multiple U.S. processing plants taking in hard-to-recycle plastics has begun operating its first location in Southern California.
PreZero, which last fall announced plans to build U.S. plastics recycling plants handling mixed rigids and film, is now in the final stages of developing those facilities. PreZero is working with ACI Plastics as a partner in the facilities. ACI is a plastics processor with facilities in Arizona, Michigan, Nebraska and South Carolina.
In early June, PreZero started the commissioning process at its plant near Riverside, Calif., running test loads of LDPE and LLDPE recovered film and producing pellets, said Scott Melton, president of ACI. The project team was expecting the facility to be operating at full scale by the end of the summer.
Hernan de la Vega, CEO of PreZero, said the company is looking forward to increasing production capacity at the California plant.
"We are very excited about it and we're happy, now, to see the first pellets come through the extruder," he said.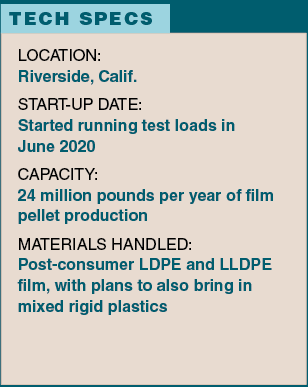 The commissioning process involves bringing each piece of equipment on-line individually and making sure everything works as it's supposed to and works correctly with the other components, Melton explained. The film line includes a shredder, wash line, water filtration system, extruder, pelletizing system and blending equipment.
"We're combining all those pieces together into one single unit," Melton said. Material coming into the facility "flows from a bale into a finished product pellet," he said.
De la Vega highlighted the wash line as a key component of the PreZero system. The wash line "gives us the ability to produce a different quality which we think is very competitive," he explained.
The feedstock will be entirely post-consumer LDPE and LLDPE film, sourced mainly from retail drop-off programs. PreZero is looking to buy Grade A and Grade B film bales to supply the plant.
Once it hits full scale, the facility will be producing 24 million pounds per year of film pellets. Most of the pellets are compliant with California's Senate Bill 270 bag regulations, which require 40% recycled content in reusable plastic bags sold in the state.
"I would say the bag manufacturers are the primary targets for this material," Melton said, although he added that other end users have expressed interest as well.
Meanwhile, across the country, PreZero is preparing for the same startup steps at a second processing facility.
The company is opening a mixed rigids plant in Westminster, S.C. In early summer, all the equipment was in place, and installation was in the final stages.
PreZero was aiming to start making pellets in South Carolina in August at roughly 20% capacity and ramp up from there. At full scale, the facility will process 60 million pounds per year of mixed rigid plastics sourced from materials recovery facilities (MRFs).
Once the California and South Carolina facilities are operating their respective processing lines, PreZero will move into its next phase for the facilities: installing mixed rigids capacity at the California facility and bringing a film reclamation line to South Carolina.
By the end of that phase, which de la Vega anticipates will be toward the end of 2021, each facility will have the capacity to process 60 million pounds of mixed rigids and 24 million pounds of film per year.
Like many other projects, the PreZero initiative has been impacted by the coronavirus pandemic.
The California facility was initially slated to be producing pellets by mid-April, but COVID-19 caused several delays. A significant portion of the equipment for the plant is manufactured in Europe, Melton said, and a team from the equipment supplier was initially planning to visit the site to set up the system.
Instead, the supplier helped set up the equipment remotely, which meant a longer process as the team worked through a new way of commissioning equipment.
"We have to be creative in many ways, but at the end, the team did a great job and the equipment is working," de la Vega said.
This story originally appeared in the Summer 2020 issue of Plastics Recycling Update. Subscribe today for access to all print content.
Know of a plastics processor that should be featured in this space? Email [email protected].