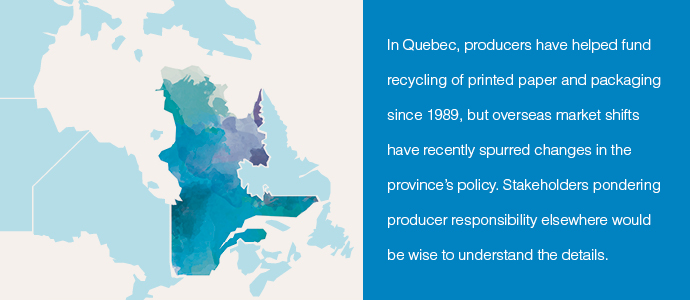 This story originally appeared in the Spring 2020 issue of Plastics Recycling Update. Subscribe today for access to all print content.
In October 1987, Business Week magazine ran a cover photo showing a barge loaded with waste on the shores of New York City, with a Greenpeace banner: "Next Time Try Recycling." This was at the height of the well-known Mobro 4000 incident, when a garbage barge traveled from Long Island to Belize and back again, looking for a place to dispose of its load.
Today, the symbol of North America's waste problems is no longer a barge; instead, it could be a shipping container.
In the past 20 years, Asian countries have changed the recycling market twice. First, they accepted tons of poor-quality bales of recovered materials, paying prices that North American manufacturers would not. Then, starting in 2017, Asian markets began refusing that same material.
Similar to the Mobro 4000 incident 30 years ago, loads generated in North America are searching for a home. This time, the banner could read: "Next Time Try Recycling Here."
How do we help make that happen? Canada's materials-recovery industry is facing the same end-market turmoil that has been seen in the U.S. This challenging economic situation has allowed Canadian stakeholders to evaluate the benefits of the different extended producers responsibility (EPR) programs for printed paper and packaging that are in place across the country of 38 million people.
And the program in Quebec is a particularly interesting case study. It's a framework that has existed in one form or another for the past 30 years, and it has required producers to focus mainly on covering the cost of materials collection and sorting.
As the economics of recycling have shifted in recent years, the shortcomings of such a system have become apparent, and the province is now in the midst of a program overhaul.
With EPR currently getting lots of attention in the U.S., analyzing how Quebec's EPR program has evolved can provide critical insight. It can help illuminate elements that should be considered when developing policies to truly address the challenges in today's recycling market and set the stage for sustainable practices moving forward.
A model based on municipal reimbursement
In Canada, the responsibility of brand owners for printed paper and packaging recycling differs from one province to another.
In British Columbia, for example, stakeholders have developed what can be called "operational responsibility." In such a system, brand owners (through their producer responsibility organization, or PRO) have a strong influence over how material is collected, transported, processed and moved to market.
In Quebec, however, the role of producers is just financial, not operational. Back in 1989, an organization called Collecte Sélective Québec (this translates to Curbside Collection Quebec) was voluntarily launched by major brand owners in the province to develop a curbside collection program for residents. Over time, it was extended and became a legal obligation for every company that put packaging and printed paper on the Quebec market.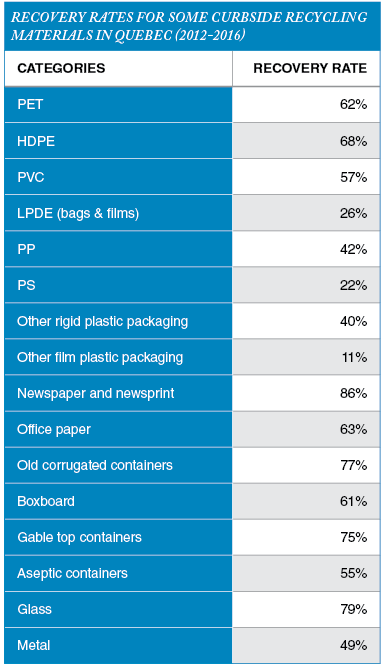 Today, the law requires those companies to pay a contribution to finance municipal curbside recycling services, and the system has been managed by a PRO called Éco Entreprises Québec (ÉEQ) since 2005. At first, the costs of those curbside programs were shared between municipalities and brand owners, but the industry has held the responsibility to cover all costs of municipal curbside collection and recycling processing since 2013.
Municipalities can choose to handle collection and/or MRF operation themselves, or they can contract with a private or not-for-profit vendor. Either way, the municipality's annual net costs (cost of collection and MRF operation minus revenue from material sale, based on the contracts' terms) are declared on a database, and ÉEQ reimburses the local program through a governmental agency called RECYC-QUÉBEC.
This financing system has allowed for the development of collection infrastructure – 99% of Quebec's population now has access to a recycling collection service. It has also helped boost the province's recovery rate of all packaging and printed paper, which went from 20% in 2000 to around 65% in 2010 (for comparison, the estimated packaging and printed paper recovery rate in the U.S. is currently 32%).
And because comprehensive recycling collection is a requirement under provincial law, the service was never interrupted despite difficult periods.
However, the model is about to change, with the government announcing in February that brand owners will be responsible for attaining an established recycling rate. And in so doing, they will be granted the opportunity to deepen their involvement in collection and sorting operations for curbside recycling programs.
This could occur via direct contracts between the PRO and processor or through right of inspection. There are many ways for the PRO to be involved in the operations: by requiring traceability monitoring, by asking MRFs to reach certain quality standards or even to send bales to specific recyclers.
The PRO could also create a system in which different MRFs specialize in different material sorting – for instance, one MRF could specialize in plastic sorting while another one could focus on paper sorting, therefore gathering sufficient volume for proper investments. How exactly this system comes together is to be determined in the coming years.
Two years of skyrocketing costs
And why are such fundamental changes needed in Quebec's EPR system?
In the current program, financial compensation has stopped at the MRFs' doors, and end markets have not benefited directly from brand owner investments. This is problematic because keeping collection services consistent puts pressure on MRFs to find recycling markets for all sorted materials, even the hard-to-recycle ones.
As global markets for recyclables have tumbled, the pressure on processors has increased enormously. As the graph below illustrates, the net cost of collection and sorting financed by the brand owners has skyrocketed. Prior to 2017, when revenues for commodity sales were greater, net costs remained relatively stable. But since then, Quebec's curbside recycling programs' net costs have raised significantly to a total of $200 million (Canadian), or approximately $250 per ton (this translates to roughly $188 per ton in U.S. dollars). It's also important to note that through this time of rising costs, the printed paper and packaging recovery has plateaued at around 65%.
This demonstrates that Quebec's EPR system has not been successful in fighting the end-market crisis for recyclable materials. While market conditions were good, no major funding in recycling infrastructure was made and the province remained dependent on exports.
It is true that some work was done to improve bale quality, especially for material with higher value on the market (for instance, OCC or PET bottles), and this did help provide some domestic end users with recycled materials. But, by and large, without proper investments in end-of-life management, even materials with high recovery rates have not been consistently used as input for manufacturers and their brand owner clients.
For instance, PET trays have an enviable 57% recovery rate in Quebec, yet buyers are at best just tolerating trays in PET bales. In addition, newsprint is recovered at an 85% rate in the province, but as exports dominated the fiber market, local deinking facilities shut down and that material is now mainly recycled overseas.
For other materials, the end-market issue is becoming an even bigger talking point. For instance, a number of well-established packaging companies have production facilities in Quebec and have pledged to reach a high level of recycled content for PP and LDPE plastic packaging by 2025 (this is part of their commitments under the Ellen MacArthur Foundation's New Plastic Economy). However, current recovery rates for those plastics are less than 50%, and those that are collected tend not to be transformed into packaging-ready resin.
ÉEQ has been proactive in trying to convince brand owners to adopt eco-friendly packaging, and some of the initiatives have led to the development of packaging satisfying recyclability criteria. However, other projects were abandoned for economic reasons.
Consider PET bottles. Currently in the province, a compensation credit is offered to companies integrating recycled content in their packaging. Brand owners reaching 100% recycled content can get a 20% discount to their basic contribution for financing recovery of PET. Based on the actual contribution ($300 per ton), the credit is $60 per ton, or around 3 cents per pound. According to some companies, this credit does not fully compensate for the cost required to integrate 100% post-consumer resin.
In short, it is technically and economically difficult for manufacturers to switch from raw to recycled material without more support and economic incentives.

New goals in quest for circular economy
As stated earlier, the government of Quebec has announced changes to try to modernize the provincial system.
The essence of the proposal is that by 2025, brand owners will be responsible for the materials they put on the market throughout their life cycle, including recycling. The government has also announced a revamped container deposit program that would expand the list of covered containers beyond soft drinks and beer to include all beverages, such as water, wine and spirits, and beverages in cartons.
Using these systems, brand owners will be mandated to hit a variety of recycling targets, encountering fines if they fail. The goals include:
A 75 % recycling rate for printed paper and packaging.
Domestic end markets for 60% of marketed materials (currently, 300,000 metric tons are shipped overseas).
15% recycled content of plastic packaging (it remains unclear whether this will apply to all resin types and packaging applications).
Achieving such targets will require the industry to invest massively in collection and processing infrastructure. And that will mean higher costs to producers. In British Columbia, the overall cost for the printed paper and packaging EPR program in 2018 was 2.5 times more than that in Quebec ($482 per ton compared with $190 per ton).
But this change in Quebec from a financial-based EPR program to an operational one must be seen as more than a solution to the current market crisis. More importantly, it is a means to build a working circular economy.
There is a consensus that improving the end-of-life realities of recyclable materials, mainly by promoting and stimulating markets for secondary commodities, should be the priority. By engaging multiple stakeholders of the recycling value chain, brand owners will have the leadership to operate an efficient recycling system in which no barge or sea containers full of valuable materials should again travel back and forth around the globe.
Pierre Benabidès is senior consultant of recyclability and markets development at Montreal-based Lichens. He can be contacted at
[email protected]. Sara-Emmanuelle Dubois is senior consultant in process optimization and technologies for the waste management sector at Montreal-based NovAxia. She can be contacted at [email protected].