Revolution is different from many reclaimers in that it's both a plastics recycling company and a product brand owner – or rather a collection of brand owners.
Under the umbrella of Revolution, which is headquartered in Little Rock, Ark., are brands in the agricultural, commercial/industrial and consumer goods sectors.
"What truly makes us unique is our focus on a closed-loop, film-to-film process, from collections to recycling to manufacturing," said Cherish Miller, vice president of marketing and sustainability at Revolution.
The end-to-end presence was a point noted by the Sustainable Packaging Coalition when it gave the company a 2019 Innovator Award.
In its agricultural products division, Revolution brands include Delta Plastics (irrigation plastic tubing for farming), Revolution Ag (agricultural films) and Revolution Board (wood-alternative boards for lawn edging and concrete forming).
The company's industrial/commercial products arm includes Revolution Bag (trash bags) and Rodeo (construction and commercial film, sheeting and bags).
Finally, on the consumer products side, Revolution owns Command (retail, food service and grocery bags) and Dailygood Bags (trash bags sold to raise funds for schools and other organizations).
Some of these brands were acquired only recently. In 2018, Los Angeles company Command Packaging and related company Encore Recycling of Salinas were acquired. The year before, in 2017, Delta Plastics acquired Rodeo Plastics of Mesquite, Texas.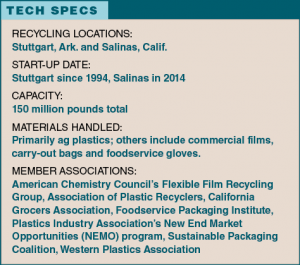 Revolution has two recycling facilities: its original recycling facility on a 50-acre campus in Stuttgart, Ark., and a 125,000-square-foot facility in Salinas (the former Encore Recycling location).
The feedstock coming into the plants consists mostly of agricultural plastics. Revolution, which has its own collection system with trucks and bins, gives farmers an alternative to landfilling, burning or stockpiling plastics.
In California, Revolution has partnered with drip tape manufacturer Toro. Through the arrangement, Revolution collects used Toro agricultural drip irrigation tape and recycles it at the Salinas plant into post-consumer pellets, which it sells to Toro for manufacturing into new tape.
At the same time, Revolution is growing the amount of non-ag scrap film it processes, including gloves, commercial film and bags. The company is "focused on rapidly expanding those feedstocks going forward," Miller said.
One non-ag partnership of interest is with Chipotle Mexican Grill, which sends used plastic gloves to Revolution. The company recycles them into trash can liners used in Chipotle restaurants.
Using a wet process, Revolution recycles about 150 million pounds of polyethylene per year. Its recycling output is pellets, most of which are used by Revolution's manufacturing operations, although some are sold on the open market.
The company's goal is to maximize PCR content in its products where possible. The company's washing process produces recycled plastic that's clean enough for very high levels of PCR in thin film, which is a demanding application that's sensitive to contamination. For example, the Revolution Bag trash can liners are made with up to 97% PCR.
This story originally appeared in the Winter 2020 issue of Plastics Recycling Update. Subscribe today for access to all print content.
Know of a plastics processor that should be featured in this space? Email [email protected].