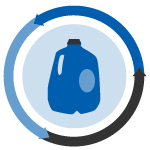 Agilyx licenses its depolymerization technology to a PS producer, a European project explores optical sorting of PU foams, and a case study looks at KW Plastics' granulators.
Extruder purchases: ACI Plastics and PreZero, two companies participating in a recycling joint venture, will buy four Davis-Standard reclaim extruders for their new U.S. plastics recycling facilities. The companies will install two extruders for a new South Carolina plant, which will process mixed-plastic bales, and two extruders for an upcoming California facility, which will process film bales. According to a press release from David-Standard, the equipment will be used to pelletize PE and PP. The equipment is expected to be installed in Westminster, S.C. early this year and in Riverside, Calif. during the fourth quarter. In November, Plastics Recycling Update reported the ACI-PreZero joint venture, called PreZero Polymers, would spend at least $90 million opening the plants. 
Virgin PS producer embraces pyrolysis: Oregon-based Agilyx has licensed its pyrolysis technology for use by a Japanese plastics producer to extract styrene monomers from post-consumer PS. According to a press release from Agilyx, Toyo Styrene will use the depolymerization technology at a unit sited near its facility in the Chiba Prefecture of Japan. Toyo Styrene will purify the styrene oil before using the monomers to make PS for food packaging. The release notes the companies plans to immediately begin engineering and development of the facility, which will be able to process 10 tons of PS per day. It's expected to come on-line in early 2022. 
Where the plastic meets the road: The Texas Department of Transportation is funding university research into optimizing the use of scrap plastics in asphalt for roads. The $343,000 research project will be conducted at the University of Texas at Arlington (UTA). A number of countries have already tried building roads with scrap plastics, with mixed results, according to the university press release. 
PU foam recycling project: Recycling equipment company Redwave is researching optical sorting of polyurethane (PU) foams, as part of a 6 million euro (about $6.5 million) initiative. Funded largely by the European Union, the PUReSmart project is exploring recovery of PU foams by developing covalent adaptable polyurethanes (CAPU) that can be mechanically recycled similar to thermoplastics, optimizing optical sorters so they can distinguish between the new CAPU foams and traditional PU thermoset foams, and creating a chemistry process to break down PU and CAPUs into their chemical building blocks. Redwave, a member of the consortium leading the project, is testing different optical sorting sensors to find the best solution to differentiate PU foams, according to a press release from the company.
Packaging use for gray PP: Plastics Technology wrote about an innovative package that's using a substantial amount of gray post-consumer PP. The laundry detergent tub, which holds Henkel's Persil brand detergent, is made up of thermoformed PP with a cardboard wrap, which allows for a substantial lightweighting of the product. The tub is made from a two-layer sheet, with the inside layer made of virgin white resin and the outside layer – the side covered with the cardboard sleeve – made of gray PCR. 
Granulators at KW: Size reduction equipment company Cumberland took an in-depth look at the environmental benefits generated by one of its longtime customers: KW Plastics. The world's largest post-consumer HDPE and PP reclaimer, KW Plastics uses 13 Cumberland 62B Heavy-Duty granulators, according to a recently uploaded case study. "Post-consumer plastics have a lot of dirt and contaminants in the material," Scott Saunders, general manager at KW Plastics, stated in the case study. "With Cumberland's help, we pioneered wet granulation which enhanced the process to help us successfully recycle high volumes of materials." New Berlin, Wis.-based Cumberland estimates that each production line at the Troy, Ala. plastics recycling facility mitigates carbon dioxide equivalent potential by up to 75,000 tons per year.
To receive the latest news and analysis about plastics recycling technologies, sign up now for our free monthly Plastics Recycling Update: Technology Edition e-newsletter.