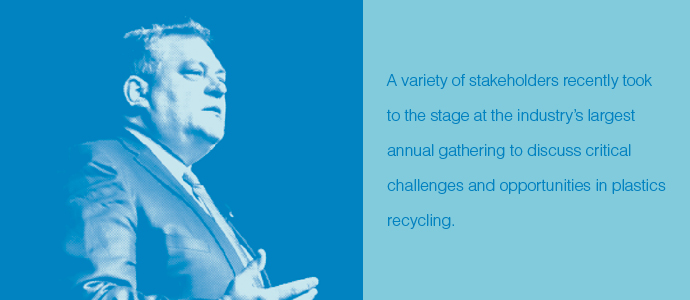 This article originally appeared in the Spring 2019 issue of Plastics Recycling Update. Subscribe today for access to all print content.
Each year, the Plastics Recycling Conference and Trade Show offers sessions diving into critical industry topics. But the discussion at the 2019 event, held in mid-March at the Gaylord National Resort & Convention Center near Washington, D.C., was particularly buzzworthy.
After all, in 2018 and into early 2019, plastics recovery professionals have seen the ongoing impacts from Asian policies collide with a boom in investment from prime plastics businesses. Then there's the growing number of brand owners making recycling commitments and the ongoing concerns tied to plastics pollution.
Below find a rundown of how those talking points and others fit into the range of presentations and conversations on the conference stages.
Petrochem giants open up on 'plastics waste problem', by Dan Leif
Executives from large resin makers say circular economy principles are key to their companies' long-term viability. Putting such a strategy into action will be no easy task, however.
"We're all as an industry trying to define what circular means," said Patricia Drake, marketing manager polypropylene North America for petrochemical giant LyondellBasell. "We all know we have a large plastics waste problem that's not going away. That's heard at the highest level."
Drake and other petrochemical leaders took to the stage in the opening session of the Plastics Recycling Conference and Trade Show. And the discussion was well-timed. Resin makers say product bans, brand owner recycled content goals, pollution concerns and other factors have put them in a position where there is no longer any question whether they should be investing in the recycling chain.
"You've got to make a product the market wants," said Jon Timbers, director of innovation and sustainability at styrene manufacturer Americas Styrenics. "You have to meet consumer demand. To include recycled content or not? That's a non-starter. The consumer is demanding there has to be recycled content in the product and it has to be recyclable."
Not a straightforward path
Meeting sustainability demands is far from straightforward for plastic resin stakeholders.
Many emerging types of plastic packaging, such as multi-layer flexible films, don't fit well into the existing recycling infrastructure. And contamination continues to plague streams of recycled plastics that do have proven value.
"We've got to have a way to get materials collected; we as an industry do a horrible job of this," said Jeff Warmann, president and CEO of Monroe Energy, an oil refiner that also operates a plastic-to-fuel operation. "We don't make it easy for people to do that."
To handle such complications, some resin businesses have invested in chemical recycling technologies. This sector, which includes a range of approaches such as depolymerization and plastic-to-fuel, is in its infancy. Pushing forward in that space will likely require both money and patience, and it remains unclear how the petrochemical sector will be able to communicate the benefits of the strategy to consumers and other decision-makers.
"Chemical recycling is not viewed as true recycling in the eyes of, let's say, the [Federal Trade Commission]," said Ted Harris, technical service and sustainability manager at Total Petrochemicals & Refining. "There's some work that needs to be done to ensure that monomers created through this process and put back into packaging does count as recycled content."
Another factor is the confusion that often gets created when different product and packaging manufacturers cherry-pick data from research to back up their sustainability claims.
"We create a mess in the market and the consumer's mind when we give them these conflicting studies in environmental impact," said Timbers of Americas Styrenics.
Recent investments
Nevertheless, it's clear that resin companies are not being shy about putting their resources behind technologies and companies that hold hope in the sustainable packaging space.
Total, for instance, recently purchased French PP recycling operation Synova. And LyondellBasell has invested in Netherlands-based Quality Circular Polymers, which describes its vision as becoming "the leading European supplier of circular polymer compounds."
Large plastics stakeholders also announced in January they are putting up to $1.5 billion behind a new initiative called the Alliance to End Plastic Waste.
Underneath all the action is the simmering threat that some plastic products will be eschewed by society in general.
LyondellBasell's Drake said that while her company is certainly keeping an eye on recent moves by governments to ban some single-use plastics, the resin maker's major focus is on finding pathways to producing the packaging that the market is asking for.
"It's innovate or die," Drake said. "We're looking for what our product is best suited for, rather than trying to hold on to what may be a sunsetting application."
For more insight on the evolving sustainability strategies among virgin resin producers, see our Q&A with Haley Lowry of Dow.
Experts get technical on material innovations, by Colin Staub
Processing technology can be used to overcome shortcomings in both PET and mixed plastics, according to two plastics recycling professionals.
At the Plastics Recycling Conference and Trade Show, Alan Barcon of PolyOne Corporation and Alfredo Faubel of Athyron LLC presented during a session titled "Getting Technical Across Materials."
They talked about optimizing the use of RPET by mitigating the polymer's shortcomings, as well as creating a desirable product from generally undesirable scrap plastics.
Modifying a standard plastic for specific traits
Barcon, associate director of marketing and technology for additive manufacturer PolyOne, explored strategies for mitigating certain failings of PET without inhibiting its recyclability.
Barcon praised PET as a "fantastic plastic," but he noted that it "does have some inherent shortcomings," depending on the use.
For example, oxygen can penetrate the wall of a PET package, he explained. This isn't a major issue if the PET is used in a water bottle, but if it is holding a dairy product or fruit, it is "definitely a problem," because those products contain oxidizable nutrients.
Additionally, PET allows light to reach its contents, and it can degrade during the processing phase. Also, using high levels of RPET in manufacturing can be challenging.
Pairing PET with other materials or introducing additives can overcome some of those issues, he said. "In order to really maximize its potential, you really have to pair it up with the right additive depending on what your application is," he said.
The oxygen permeability challenge can be tackled by pairing PET with an oxidizable nylon or other similar polymer, Barcon said. The materials can be paired using a cobalt catalyst. "As the oxygen permeates the container wall, it's scavenged by that oxidizable polymer," he said.
To determine which oxidizable polymer is right, the functionality should be considered. A product that needs a 30-day shelf life can get by with using very different materials than something that needs to last for a year or longer. "That has an impact on the amount of oxidizable additive that you're going to put into the PET," Barcon said.
Container size and shape also play into these decisions, as will the presence of other additives.
Even small amounts of certain colorants "can actually interfere with the oxidation reaction between oxygen and that oxidizable polymer," Barcon said.
To tackle the light-penetration problem, Barcon again noted that it really depends on the application of the package. A juice containing vitamin C, for example, can degrade when hit with UV light, and so the plastic should include a light-protection agent.
"You really have to consider, 'Well, how much light do I need to block?'" Barcon explained. That requires some chemistry and testing.
The Association of Plastic Recyclers (APR) recently recognized PolyOne for its Smartheat RHC additive, which allows for a higher post-consumer resin content in containers and opens opportunities for greater lightweighting.
For stronger light-blocking needs, manufacturers sometimes use pigments in the plastic, Barcon noted during his presentation.
"They are effective, but the issue is then, what do you do with that PET bottle? You don't want it to go straight into your transparent PET recycle stream, because it will contaminate it, so that's an issue," Barcon said.
A more desirable option from a recyclability standpoint is to use clear PET bottles with a full-body sleeve label. Barcon said sleeve technology has improved significantly, allowing sleeves to be more easily removed.
Fiber-reinforced wood replacement
Texas-based Athyron sells a product called Miura Board, which has been manufactured for over 12 years. It's a durable wood replacement, produced using 100 percent recycled materials.
The product came out of Athyron's mission to create value from waste, said Faubel, CEO of Athyron.
"Essentially when most people see plastic waste we actually see wasted plastic," Faubel said.
Miura Board is made from a fiber-reinforced composite. The company takes in commingled plastics and combines them with carpet fibers. Athyron then uses a patented process to blend those thermoplastics with non-melting fibers, which can be drawn from a variety of sources.
"The beauty of this technology is that it's very agnostic in terms of the kinds of feedstocks you can use," Faubel said during his presentation. That allows the company to use mixed plastics, excepting PVC.
Polymers that melt at higher temperatures, such as nylon or polyester, or glass fiber are added, and the company creates a durable product with "very interesting properties."
"You can cut it, drill it, nail it, screw it, route it, sand it, but it doesn't split, it doesn't crack, it doesn't swell like wood," Faubel said.
The material is also paintable or weldable, he said. It can be laminated with wood or other finishes, and it can also be used as a laminate on wood surfaces. It's also UV-resistant and solvent-resistant, meaning it can be dipped in chlorocarbon solvents, acetone and other substances and it won't dissolve.
One factor limiting its end market usage is its shifting appearance.
"Whatever comes out today, that's the color," Faubel said, noting that this precludes some retailers from carrying the product, as customers demand consistent colors and a wide variety. "It doesn't mean we cannot pigment it, but then it wouldn't be 100% recycled. Now, you're buying an ingredient, basically."
China expert: market shift means opportunity, by Colin Staub
Although the recycling relationship between the U.S. and China has been hampered by scrap material restrictions, one insider says companies in both countries can now take steps to help each other – and profit.
Chinese companies have the capability to process material at relatively low cost, said Chris Cui, director of China Programs for Closed Loop Partners, an investment firm providing capital to recycling-related enterprises. The U.S., on the other hand, is far more advanced in collection and transportation of recyclables.
"We see there is a huge opportunity after the ban for us over there, and we want to build a bridge for the industry here in the U.S. to work together with their counterparts in China and the rest of Asia," Cui said during a Plastics Recycling Conference and Trade Show panel focused on National Sword.
Over $200 billion at stake
Closed Loop Partners launched its China Programs division last year following China's ban on imports of many categories of recyclables.
She estimated that the plastic not currently being recycled in the U.S. and China represents over $230 billion in potential value.
Many Chinese companies have already come to the U.S. and invested in North American processing infrastructure to ensure continued feedstock supply, Cui said. And Closed Loop has seen many more companies that are interested in doing so. Cui said U.S. companies can work with the Chinese operators "by sharing your knowledge of the U.S. market as well as your network."
"If you have advanced technology or a business model that can help Chinese companies, that's one big business opportunity for you and your company," Cui said.
She described some of the biggest hurdles for increased investment and partnership between Chinese and U.S. businesses, noting that Closed Loop wants to help tackle these barriers by increasing communication between companies in both countries.
"A lot of Chinese companies have a lot of challenges when they come to the U.S., culturally," she said. "You can invest in a plant, but how do you make sure that the management team is up and running? How do you make sure you know how to work with the local government and the state government? How can you identify which area is the best for you to set up your plant? You have to consider the transportation, do you have enough feedstock, if there's any tax incentive opportunity zone, those are the kinds of value you can add to the Chinese players that are coming over here."
Meanwhile, in China, investment trends toward the collection and sortation side of the business.
"If you have advanced technology or a business model that can help Chinese companies, that's one big business opportunity."
Closed Loop has seen emerging technology investments in a variety of recycling sectors, Cui said, ranging from robotic sorting to internet of things (IOT) systems that support on-site recycling – that is, self-contained processing equipment that can be installed anywhere and reduces the need for scrap material transportation.
"It's happening very fast in China, because as I said, the industry has been hit a lot, but there's also a lot of demand because they no longer have the feedstock from the U.S.," she said. "How do they keep their shop running? For the big paper companies [and] plastic companies, where do they get [material]? They need to use their own money to invest in innovative technology to do that."
A view from within
Cui also provided details on recycling inside China. The recycling issue is tied to larger Chinese economic trends, she explained.
"Currently, the U.S. trash generation is very high compared to in China, but that's about to change," Cui said. "In China, with the emerging middle class, the lifestyle will change. We will spend more money on cars, consumer products, so we can see the trash generation per person is going to come up."
At the same time, China's recycling rate hovers at a "very low" level compared with the U.S., Cui said, noting most material in China is being landfilled. China's huge population makes it fairly difficult to site landfills in the country, so given the predicted trash generation increase, landfill alternatives have received greater interest.
Pushing toward a circular economy system is "of strategic importance to the government," Cui said.
"They're coming up with a holistic approach to support the development of this sector, for the private sector as well as for the public sector, as well as for foreign investors coming to China to invest," she said.
Banning scrap material imports "is just one of the actions the government has taken," Cui noted.