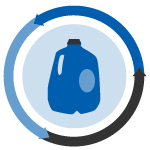 The U.K. government is helping to fund recycled PP and PE deodorizing research, and an ultrafine PET melt filter is developed. 
Flake to bottle preforms: A PET flake-to-preform technology has won a World Star Packaging Award. Four companies – recycling equipment manufacturer Erema, PET packaging maker SIPA, plastics recycling company Kyoei Industry and beverage company Suntory – were involved in developing what's called the XTREME Renew Flakes to Preform System, which creates 100% recycled RPET bottle preforms in a single process. With an annual capacity of 300 million containers a year, the system has been in use by Kyoei Industry in Japan for nearly a year. 
Fiberglass recycling research: The Canadian transportation department awarded a grant to KWI Polymers advance a recycling technology for fiberglass boats. The Quebec startup will receive $150,000 Canadian (about $115,000 U.S.) under the Canadian Plastics Innovation Challenge. The goal is to develop a process for recycling glass-reinforced polymers into street furniture, sidewalks and decking. The Canadian Plastics Innovation Challenge is a $12.85 million Canadian initiative to support technology research to address plastic pollution. 
Deodorizing project: The UK is helping to fund development of a process to remove odors from post-consumer recycled PP and PE, according to Plastics News Europe. Innovate UK awarded a grant of 840,000 British pounds (over $1 million) to a consortium of companies and institutions led by plastic recycling company Luxus. The goal is to remove retained odors from plastics that used to hold food or detergents so they can be used in higher-value applications such as parts for vehicles and civil engineering. 
Tour of top-notch facility: Attendees of the Tomra Leads Global Conference 2019 in June in Bulgaria got the chance to tour Integra Plastics, a reclaimer operating in a new $45 million facility. Located outside the capital of Sofia, the plant sports 14 Tomra Autosort optical sorters, including one that's combined with a laser object detection (LOB) system and two that have been specially developed to sort black flexible plastics, according to a press release. The system can recycle 40,000 tons of mixed-color, post-consumer film annually, producing LDPE, HDPE and PP pellets.  
Super fine melt filter: The PETnology Americas conference in May in Atlanta featured a speaker from KOKSAN, which has developed an ultrafine PET filter. The Turkish PET packaging company (not to be confused with the North Korean artillery of the same name) developed a filtration method that can remove contamination down to 5 microns, reducing color distortion and improving suitability for use in food packaging, according to a press release.
Recyclable chip bags?: Scientists at the University of Oxford in the U.K. are working on a barrier layer technology that would allow chip bags to be made of one polymer, improving recyclability. New Scientist reports they're using a nanosheet, made from amino acids and water, applied to a film such as PET. The nanosheet replaces metallized films, which keep the food fresh by providing a barrier layer. The publication reports the amino acid-water layer performs about 40 times better than metalized film, in terms of blocking oxygen. It also fared well in a crumple test.
To receive the latest news and analysis about plastics recycling technologies, sign up now for our free monthly Plastics Recycling Update: Technology Edition e-newsletter.