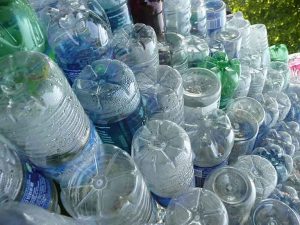 This article has been corrected.
Research focused on recycling scrap PET bottles and carpet into a reinforced polymer composite received federal funding recently.
The REMADE Institute, a Rochester, N.Y.-based public-private organization, on May 7 announced it has awarded grants totaling $5.9 million to 12 research projects, including those touching on plastics recycling.
Formed in 2017, the Reducing Embodied-Energy and Decreasing Emissions (REMADE) Institute is now helping to fund 31 research projects. The following are a few details of the recently funded plastics projects:
Reinforced polymer composites: Oklahoma State University, private-label bottled water company Niagara Bottling and carpet product manufacturer Shaw Industries are working together to boost the recycling of bottles and carpeting by combining both materials in reinforced recycled polymer composites. Those composites could then be used to make repairable plastic pallets and acoustic panels. "Increasing the value of the recycled materials will motivate collection, recovery and recycle rates," according to a project summary.
Recover plastics from scrap electronics: The University of Utah and electronics recycling company Sunnking are working to adapt relatively low-cost and low-energy leaching processes to directly recover copper and precious metals from e-scrap while also allowing the plastics to be recovered. Leaching using chemicals is an alternative to using high-temperature smelting, which destroys the plastics.
Solvent-based approach: The University of Massachusetts-Lowell, Sunnking and the Institute of Scrap Recycling Industries (ISRI) are involved in a project to demonstrate the potential to use a solvent-based methodology to recover mixed metals and plastics from e-scrap.
This was the second round of grants for the REMADE Institute. The first round was announced in July 2018. Partially funded by the U.S. Department of Energy, the REMADE Institute is led by the Rochester Institute of Technology. A partnership of industry, academia and national labs, the institute's goal is to reduce energy usage and greenhouse gas emissions in manufacturing.
Photo credit: Shea Hazarian
This article has been corrected to indicate that Oklahoma State University, not Ohio State University, is involved in the reinforced polymer composite project. 
To receive the latest news and analysis about plastics recycling technologies, sign up now for our free monthly Plastics Recycling Update: Technology Edition e-newsletter.
More stories about research