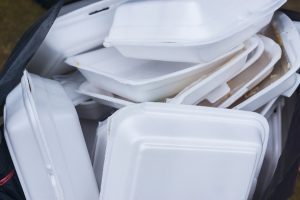 Maine lawmakers approved the first statewide prohibition on polystyrene foodservice packaging last week. The plastics industry quickly criticized the move.
Single-use polystyrene foodservice packaging, including take-out containers and service ware, will be banned across Maine beginning in January 2021. The bill passed an April 25 floor vote of the state Senate, where 23 senators – 19 Democrats and four Republicans – voted in favor and 10 Republican senators opposed the bill.
Gov. Janet Mills, a Democrat, signed the bill into law on April 30. Prior to the statewide ban, 14 Maine municipalities enacted their own prohibitions on polystyrene foodservice packaging.
"Polystyrene cannot be recycled like a lot of other products, so while that cup of coffee may be finished, the Styrofoam cup it was in is not," Mills said in a statement. "In fact, it will be around for decades to come and eventually it will break down into particles, polluting our environment, hurting our wildlife, and even detrimentally impacting our economy."
She added that the ban will "create consistency for businesses that operate in multiple municipalities," promote alternative container use and provide plenty of time for stakeholders to adjust to the change.
But opponents in the plastics industry condemned the decision, stating that it will do "little to actually keep the state clean."
"Polystyrene foam packaging is a safe, recyclable, durable, and cost-effective product for use in foodservice," the American Chemistry Council (ACC) said in a statement. The industry association added that the ban will harm business owners who may have to spend more to purchase alternative materials.
A similar proposal recently passed both legislative chambers in Maryland, but has yet to receive a signature from that state's governor.
Recycling perspectives
The recyclability of polystyrene foodservice packaging has been hotly debated in recent years, perhaps most publicly in New York City. The city banned foam polystyrene containers from use in restaurants. Plastics producers and recycling operators sued the city multiple times. Ultimately, the ban took effect this year.
Stakeholders in the recycling field hold mixed views on hard-to-recycle materials such as expanded polystyrene. For example, the Association of Plastic Recyclers (APR), an industry group representing stakeholders in the plastics recovery field, does not support product bans as a way to respond to recyclability challenges.
"They do not address the issue of supply," APR President Steve Alexander told Plastics Recycling Update (Disclosure: APR owns Resource Recycling, Inc.). "We support the expansion and improvement of recycling programs and infrastructure."
Foam polystyrene presents several challenges for MRFs. Nonprofit MRF operator ecomaine said it prioritizes landfill diversion and uses the U.S. EPA waste management hierarchy when considering how materials should be handled. Difficult-to-recycle materials such as polystyrene are good candidates to be pushed higher up the hierarchy to waste reduction or prevention, according to ecomaine.
"Expanded polystyrene also comes with a logistical challenge in that densification of the material is costly and inefficient, and so you end up transporting air which obviously has a negative impact on the environment and can be very costly," ecomaine CEO Kevin Roche told Plastics Recycling Update.
Photo credit: kittiwat chaitoep/Shutterstock
More stories about legislation