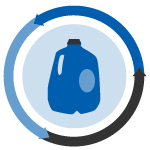 A number of companies have announced developments in technologies for breaking down plastics for use in other products. Here are a few of the notable news items.
Polyester fiber recovery: A Taiwanese company developed a chemical recycling technology that recovers polyester from mixed-material textile. Recycling International reports Far Eastern New Century (FENC) developed a process through which polyester is dissolved and other polymers and dyes are filtered out. Called TopGreen rTex, the technology can be used to recover polyester from spandex-blended polyester fabrics. FENC, a conglomerate involved in PET and synthetic fiber production, has worked for years with Adidas to incorporate recovered marine plastics into shoes.
Market potential explored: Consulting and research firm McKinsey and Company published an article highlighting how recycling – particularly chemical recycling technologies – can transform the chemicals industry. The piece outlines a vision of a 50 percent reuse or recycling rate by 2030, calling for a dramatic increase in mechanical recycling, as well as the industrial-scale launch of monomer recycling and pyrolysis technologies. Under a high-adoption scenario, all recycling methods could account for two-thirds of petrochemical company profit-pool growth by 2030.
Low-value plastics to packaging: Saudi Arabian chemicals company Sabic will sell plastics sourced from low-quality mixed plastics to major consumer goods companies, according to Plastics Today. Sabic, a huge virgin plastics manufacturer, will produce recycled polymers from a feedstock called Tacoil, a patented product from U.K. company Plastic Energy. Sabic will supply the plastics for use in Unilever, Vinventions and Walki Group packaging.
IBM develops recycling process: Information technology company IBM has developed its own process for breaking down scrap PET so the monomers can be reused. Called VolCat, the process uses chemicals, heat and pressure to depolymerize the plastic. It's part of IBM's annual "5 in 5" predictions, which detail five innovations the company expects will help change our lives in the next five years. Three years ago, IBM unveiled a chemical process to convert scrap polycarbonate in a thermoplastic called polyaryl ether sulfone (PSU).
Depolymerization commercialization: Loop Industries has signed a multi-year agreement to supply RPET to L'OCCITANE Group, a manufacturer of natural cosmetics and well-being products. The deal helps L'OCCITANE en Provence meet its goal of using 100 percent recycled plastic in its bottles by 2025. Additionally, Loop, which uses an efficient depolymerization process to recycle PET scrap, will have its logo on containers using its PET.
Plastics maker invests in research: Plastics News reports Brazilian petrochemicals company Braskem is working to develop a new chemical recycling process for post-consumer films. The research is being conducted in partnership with a polymer engineering lab at the University of Rio de Janeiro. The publication reported other project partners include the SENAI Institute for Innovation in Biosynthetics and environmental services company Cetrel.
To receive the latest news and analysis about plastics recycling technologies, sign up now for our free monthly Plastics Recycling Update: Technology Edition e-newsletter.