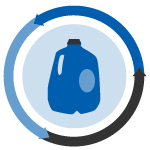 A patented cleaning process allows for the use of RPET in heat sealable polyester packaging film, and PET depolymerization technologies get a boost.
RPET cleaning for use in film: DuPont Teijin Films (DTF) has launched a line of heat sealable polyester films with up to 50 percent post-consumer RPET content, according to European Plastic Product Manufacturer magazine. To develop the heat sealable films, which are sealed onto the top of food trays, DTF worked with an RPET supplier sourcing scrap plastic from bottle deposit systems in a number of European countries. The plastic undergoes the patented URRC multi-step cleaning process developed by South Carolina-based United Resource Recovery Corporation (URRC). Veolia, a company using the technology, explains the steps involved on its website.
Improving PET processing: Quebec PET depolymerization startup Loop Industries has released a letter to investors with details on the company's technology development. In the area of technology, Founder and CEO Daniel Solomita noted the work that went into developing the company's Generation II DMT process. The Generation I PTA technology involves creating purified terephthalic acid (PTA) and monoethylene glycol (MEG), two common monomers of PET. Loop Industries eliminated water and chlorinated solvents from the purification process, reduced the number of reagents from five to two and cut the number of purification steps from 12 to four by shifting to the production of dimethyl terephthalate (DMT), another monomer of PET, instead of PTA, Solomita wrote.
Marine plastics to building blocks: Plastics Technology writes about a project in Costa Rica to recycle marine plastics into construction blocks that are stronger yet lighter than traditional concrete ones. The product, called Ecoblock, is the result of a partnership between the Center for Regenerative Design and Collaboration and construction product maker Pedregal. The scrap plastic is recovered from marine environments before it's cleaned, pelletized and used in an aggregate that is mixed with cement.
Financial assistance approved: A company that specializes in using enzymes to break down PET into its building blocks will receive a significant investment to help it scale up. Carbios and Toulouse White Biotechnology (TWB), which is working with Carbios on the project, have been approved by the French government to receive a total of 7.5 million euros (nearly $8.6 million) to advance the PET depolymerization technology.
Recyclable pouch released: Harney & Sons loose tea is now available in a barrier pouch that's recyclable via retail PE film drop-offs. The new stand-up pouch contains an EVOH barrier layer, which protects the tea's natural oils, and an embedded compatibilizer from Dow Chemical Co. The Retain brand compatibilizer disperses the EVOH evenly within the polyolefin matrix when the different layers are melted. The package is the result of a collaboration between Dow, Charter NEX Films and TC Transcontinental Packaging. Plastics Recycling Update provided an in-depth look at the Dow technology in 2016.
Putting itself on the radar: A company advancing a microwave-assisted PET depolymerization technology received a prize from the European Commission. Swiss company gr3n received a 2018 Innovation Radar Prize. Plastics Recycling Update reported in December the company was a finalist for the prize in the category of "Tech for Society."
To receive the latest news and analysis about plastics recycling technologies, sign up now for our free monthly Plastics Recycling Update: Technology Edition e-newsletter.