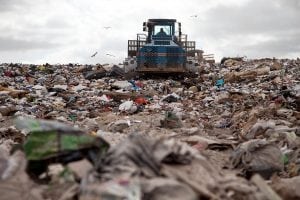 Yale University researchers estimate 32 million metric tons of plastic were landfilled in the U.S. in 2015, significantly more than the estimates from federal officials.
A study published by the Journal of Industrial Ecology pulls from multiple data sources to calculate weights of different materials landfilled. It was conducted by Jon T. Powell and Marian R. Chertow, both from the Yale Center for Industrial Ecology.
Their plastic estimate was significantly larger than the number produced by the U.S. EPA, which uses a different methodology to arrive at disposal numbers. The EPA calculated 24 million metric tons of plastic were sent to U.S. landfills in 2015.
For their study, the Yale researchers used a new model to estimate disposal weights. According to their report, it triangulates measurements spanning 1,161 landfills and 15,169 solid waste samples collected and analyzed at 222 sites across the U.S.
"The model provides major advances in the accuracy of estimates of just what types of waste are being created and where they end up," said Reid Lifset, industrial ecology research scientist at Yale and editor-in-chief of the Journal of Industrial Ecology.
In contrast, the EPA uses what's called a materials flow methodology that relies on a mass balance approach. It relies on data gathered from industry associations, businesses and government agencies, supplemented by waste characterizations and research reports from governments, industry or the press.
The Yale researchers estimated it cost $1.6 billion to dispose of the plastics, or about $49 per ton, in 2015. They also also put a number to how much the lost plastic commodities may have been worth: $511 million.
Other materials
Powell and Chertow estimated landfill weights in 2015 for a number of other materials (all weights metric tons): paper (63 million tons), food scraps (35 million tons), textiles (10 million tons) and electronics (3.5 million tons). Their total MSW-to-landfill calculation, 230 million tons, is far larger than the EPA's number for 2015: 124 million metric tons.
But the researchers' estimates for metals and glass disposal were relatively close to EPA estimates.
Powell was involved in earlier research, published in 2016, that estimate total U.S. landfill disposal and compared it with EPA estimates. It found that 262 million metric tons were sent to U.S. landfill in 2012, compared with the EPA's estimate of 122 million metric tons.
Photo credit: Huguette Roe/Shutterstock
More stories about EPR/stewardship