This story has been corrected.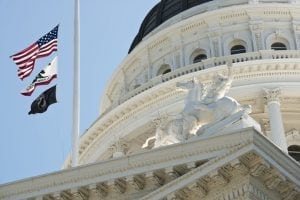 California legislation requiring 20 percent recycled content in PET bottles failed. Meanwhile, state lawmakers passed a number of other plastic and recycling-related bills before adjourning.
Senate Bill 168 required PET beverage containers sold in the Golden State to contain at least 20 percent post-consumer content starting in 2020. State regulators would be tasked with adjusting the minimum percentage in later years.
On Aug. 31, just as the 2017-18 legislative session was wrapping up, the bill failed in the state Assembly. It was rejected by a vote of 29 to 30, with another 21 representatives either absent or declining to vote on it. The bill needed at least 41 votes in favor to pass in the Assembly. The state Senate had approved the bill on Jan. 29 in a vote of 28 to 6, with another 6 votes not recorded.
The American Beverage Association was among the groups opposed to the bill. Among the group's many supporters was recycling advocacy group Californians Against Waste (CAW). Mark Murray from CAW told Plastics Recycling Update that after the final vote he talked with representative of Coca-Cola, PepsiCo and Nestle, and they agreed to continue talking this fall.
"I feel confident that with a little more time, we can develop a pathway to increase use of recycled content in all PET plastic beverage containers," he said.
In 2016, the legislature passed and the governor signed legislation requiring beverage companies to report the amount of virgin and recycled PET they use in their beverage containers. The first reports, uploaded earlier this year, showed a wide range of RPET usage in 2017, with many companies using none and some using high levels.
As examples, Nestle Waters North America reported 43 percent recycled content usage, PepsiCo 21 percent and Coca-Cola North America 16 percent in its soda bottles but zero in other drink categories. Murray said the statewide average was 13 percent.
Other bills passed
Just before the California legislature ended its 2017-18 session, elected leaders passed a number of notable bills. Among them were those focused on stemming container redemption center closures, reducing drinking straw waste, ensuring only recyclable or compostable take-out packaging is offered on state properties, and addressing the generation of ocean plastics and presence of microplastics in drinking water.  
CAW sent out a press release hailing the passage of the bills. It noted that California Gov. Jerry Brown has until Sept. 30 to sign or veto them.
This story has been corrected to make clear that Senate Bill 168 needed at least 41 votes in favor to pass in the state Assembly. The article had erroneously indicated the legislation fell just one vote short of passing.
Photo credit: Michael Warwick/Shutterstock
More stories about legislation