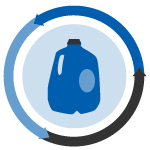 A project to develop depolymerization catalysts advances with support from a worldwide plastics company, and a bottled water company installs a PET recycling line.
'Mad scientist' beginnings: Forbes published a piece on how Quebec company Loop Industries, which uses an energy-efficient process to depolymerize PET scrap, got its start. As with so many startup stories, this one begins in a garage. But, uniquely, it involves chemistry developed by a "mad scientist" and his sons, who were immigrants to Canada from Tunisia.
In other Loop news: Loop Industries signed a deal to launch a free-to-consumers recycling program for Gatorade Gx pods. Gatorade is owned by Pepsico. Last year, another Pepsico brand, Drinkfinity USA, inked a deal with Loop for a similar mail-back recycling program for that brand's drink pods, which are made of layers of PET, HDPE and aluminum.
Depolymerization development: Global prime plastics manufacturer LyondellBasell has partnered with Germany's Karlsruhe Institute of Technology (KIT) to develop a new catalyst and process to depolymerize post-consumer plastics. Earlier this year, LyondellBasell announced it now owns a 50 percent stake in mechanical recycling venture Quality Circular Polymers (QCP). "Chemical recycling is complementary to mechanical recycling and is able to manage multi-layer and hybrid plastic materials, which can't be easily recovered by mechanical recycling," according to a press release.
Recyclable pouch interest: In its latest sustainability report, Nova Chemicals says its recyclable PE stand-up pouch has been adopted by a national meal kit company and more than a half-dozen brand owners are testing it. The pouch is recyclable via the PE film stream collected by stores. It is approved to carry the How2Recycle store drop-off program label.
Sharp recycling strategy: Recycling International reports on how TerraCycle, a New Jersey-based company that specializes in recycling challenging materials, is recovering plastic from used medical sharps. The company uses an autoclave to sterilize the sharps before separating them into metals, plastics and glass streams. For safe mail-in collection, TerraCycle developed a puncture-resistant sharps container and shipping carton.
PET line installed: Recycling equipment company Amut has provided equipment for a post-consumer PET recycling line in Italy. Mineral water company Ferrarelle installed the system made up of sorting equipment, including two NIR sorters for colored plastic and metals removal; dry de-labeling and pre-wash equipment; and an Amut Turbo Washer and Friction Washer. The line will produce up to 3,000 kilograms per hour of flake for direct molding into bottle preforms.
Food package challenges: An article in the BBC takes a look at why a large percentage of the plastic packaging UK citizens put in their recycling bins isn't recyclable. The piece notes the challenges with processing multi-polymer packaging and sorting black plastic. The Local Government Association, which represents municipalities in England and Wales, estimates only one-third of the food containers put in bins are recycled.
Solving solvent challenges: Researchers from Lithuania and Egypt developed a special solvent to separate materials in multi-layer film packaging so they can be recovered, The Chemical Engineer reports. Then, by adding water and carbon dioxide, they switched the polarity of the solvent, allowing the remaining dissolved adhesives and inks to be recovered. The process avoids the need to heat the solution, which is a requirement when using many common solvents but has the effect of degrading recovered polymers.
Plant opens: Canadian startup Polystyvert has opened an EPS dissolution and recycling plant in Montreal. The facility is capable of processing 660 short tons per year, or about 275 pounds per hour. Polystyvert's technology involves using essential oils to dissolve foam PS, allowing for cost-efficient transportation to the recycling plant, where contaminants are removed and the plastic is recovered. The Montreal Gazette published more details on the opening.
To receive the latest news and analysis about plastics recycling technologies, sign up now for our free monthly Plastics Recycling Update: Technology Edition e-newsletter.