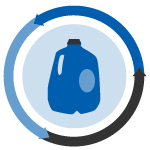 An integrated plastics reclaimer counters claims about the non-recyclability of black plastics, and a UK company develops a more-efficient plastics-to-oil process using water.
Barrier additives: Cleveland, Ohio-based PolyOne Corp. presented its barrier additive technologies at a recent investors day, according to a press release. The publicly traded company's Lactra SX protects light-sensitive dairy products when used in single-layer PET containers, allowing companies to avoid using multi-layer bottles.
Black plastics market: Sarnia, Ontario-based ReVital Polymers issued a statement reaffirming its ability to recycle black plastics, an effort to counter media reports stating they're not recyclable. The company's facility, which combines a plastics sorting and processing facility under one roof, takes in mixed-plastic bales and produces pellets for sale into automotive and household goods markets. The company plans to expand the range of plastics its accepts from recycling programs next year, according to the statement.
Sorting for pyrolysis: A Dutch company will use a front-end sorting system provided by Bollegraaf Recycling Solutions to separate plastic feedstock for its pyrolysis process. Bin2Barrel will use shredders, metal-removal technologies and optical sorters to generate a plastic stream for its Amsterdam pyrolysis plant. The facility will process 35,000 metric tons of end-of-life plastic per year into 30 million liters of fuel. Bin2Barrel's ultimate goal, however, is to chemically recycle the polymers so they can be used in new plastic, according to a press release.
R&D opportunity: Houston-based Birch Plastics installed a research-and-development line that its customers can use, according to Plastics News. Most of Birch's clients have been using the system to test adding recycled content to their products, or they have been experimenting with different compatibilizers to see if they can include mixes of different recycled plastics in their products.
Plaxx deals inked: A chemical recycling company in the UK has signed deals worth tens of millions of dollars with buyers. Waste Management World reports Recycling Technologies, which makes a product called Plaxx, signed two separate deals worth 65 million British pounds (nearly $87 million) with InterChem, a global petrochemicals trader, and Kerax Limited, a European manufacturer of blended and specialty performance waxes.
A hard recycling stream: A UK partnership is tackling the hard job of recycling hard hats. Recycling International reports waste management company Viridor and plastics company Polymer Industries have launched a recycling project for hard hats, which are challenging to recycle because they contain different plastics. The companies have already recycled 1,200 hard hats.
Water-based conversion process: In other news from the U.K., a company called ReNew ELP will use catalytic hydrothermal reactors (Cat-HTR) to convert plastics into oils and chemicals. The technology uses water at high pressure and temperature to process end-of-life plastics and tires, according to Plastics Insight. Developed by an Australian company and patented by ReNew ELP, the process is more efficient than pyrolysis or gasification, the company's managing director said.
Canadian investment: An Ontario company that converts plastics into high-value waxes and other products has received an investment from the Business Development Bank of Canada (BDC). GreenMantra Technology will receive 6 million Canadian dollars (about $4.6 million U.S.) from BDC.
To receive the latest news and analysis about plastics recycling technologies, sign up now for our free monthly Plastics Recycling Update: Technology Edition e-newsletter.