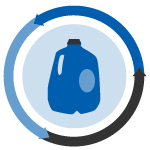 A portable twin-screw extruder will help U.S. troops recycle in far-flung places, and European brand owners work to incorporate recycled-content into a demanding packaging application.
Ocean plastics recycling: A partnership is taking PET bottles out of marine environments and recycling them into neoprene sleeves for glass bottles on sale at Starbucks. Sustainable Brands reports water filtration systems company Soma and nonprofit group Parley for the Oceans have teamed up on the project. Soma has more details.
Recycling in the field: Plastics News reports that a small twin-screw extruder is helping U.S. Army soldiers deployed in the field reduce waste and create needed parts. The Process 11 parallel twin-screw extruder, from Thermo Fisher Scientific, will be used to produce 3D filament, which will then be used to print spare parts as needed.
Speedier depolymerization: Carbios, a company that uses enzymes to break down PET into its PTA and MEG components so they can be reused, has dramatically reduced the amount of time the process requires. The French startup announced it has optimized the enzyme to reduce the hydrolysis process to take only one-third of its previous time. Now, 97 percent conversion is achieved in 24 hours, according to a press release.
Recycled-content pouch: Austria-based brand owner Henkel announced it is now using PE production scrap in an OPP/PE flexible package holding detergent. The Megaperls brand bag contains 10 percent regrind from a Germany factory run by paper and packaging giant Mondi. Henkel and Mondi aim to boost the recycled content to 50 percent, in part by using recycled oriented PP (OPP) in the structure.
From ocean to fabric: A Taiwanese textile company has won an award for its fabric made from reclaimed ocean plastics. Paltex recycles discarded fishing nets and bottles into nylon and polyester fibers for use in textiles. Paltex won one of the Top 10 Textile Innovation Awards from the FabricLink Network.
To receive the latest news and analysis about plastics recycling technologies, sign up now for our free monthly Plastics Recycling Update: Technology Edition e-newsletter.