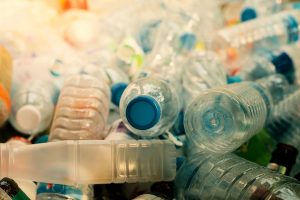 Sunday marks the 48th iteration of Earth Day, an annual celebration that tends to spawn many recycling-related events and announcements. This year, plastics are the focus of the conversation.
Earth Day Network, a nonprofit group at the center of the action, is using the day to bring attention to a multi-year campaign called "End Plastic Pollution."
"Our goals include ending single-use plastics, promoting alternatives to fossil fuel-based materials, promoting 100 percent recycling of plastics, corporate and government accountability and changing human behavior concerning plastics," according to the group. (Earth Day Network is closely associated with Earth Day, but the annual event is not organized by any single group or entity.)
The following is a selection of Earth Day recycling announcements:
Chemical industry perspective: Steve Russell, vice president of the plastics division of the American Chemistry Council (ACC), wrote in response to the plastics focus of some groups on Earth Day this year. Arguing that bans on single-use plastic items will cause more environmental harm, Russell said the key to preventing plastics pollution is boosting collection and recycling infrastructure in developing countries, and he pointed to industry efforts on that front.
Outreach tools available: The Recycling Partnership is highlighting outreach tools it has available for programs wanting to reach residents on Earth Day. The nonprofit group's website has recycling messages available for free, including a graphic showing people the variety of products that can be made from recycled PET.
Sustainability discussion: The Plastics Industry Association will host an Earth Day Twitter chat @PLASTICS_US to discuss trending topics in sustainability. Participating in the April 18 online conversation will be representatives of Plastics Technology, Dow Chemical, the Plastics Industry Association, Envision Plastics and the Sustainable Packaging Coalition.
From ocean plastic to fabric: Major League Soccer (MLS) players will wear special uniforms made by Adidas using Parley Ocean Plastic. Last year, four MLS clubs – New York City FC, Orlando City FC, LA Galaxy and Seattle Sounders FC – wore the recycled-plastic jerseys on Earth Day. This year, all 23 clubs will participate, with teams wearing either non-dyed or carbon-colored jerseys to differentiate themselves on the field.
Message in the sky: Airline JetBlue has partnered with The Ad Council and national nonprofit Keep America Beautiful to raise awareness about the benefits of recycling. The company is donating space and running the "I Want to Be Recycled" public service announcements on all flights throughout April.
Car seat recycling: Target will accept any unwanted children's car seats for recycling April 22 through May 5, and customers dropping off old seats will receive discounts on new products. Target will send the collected seats to Waste Management. The retailer's program was first started in 2016, and since then its five collection campaigns have diverted 2.6 million pounds from landfill, according to a press release.
Film recycling reminder: A recycling awareness event in North Branford, Conn. will feature displays meant to remind residents that films are recyclable via retail drop-offs. According to zip06.com, the event organized by the North Branford Hazardous Waste and Recycling committee will have big bags full of film, including bubble wrap and paper towel wraps.  
Toy recycling: Hasbro has teamed up with TerraCycle to launch a toy and game recycling pilot program. In honor of Earth Day, consumers in the Lower 48 can visit hasbrotoyrecycling.com to sign up for the free mail-in recycling program.
Reusable containers: Illinois State University will hold its 6th annual Water Bottle Swap where students can exchange a single-use water bottle for a Camelbak brand bottle.
Recyclables Roadshow: An April 21 Hershey, Pa. event titled "You CAN Recycle That: Recyclables Roadshow" in will feature speakers from Waste Management of Pennsylvania and local group Derry Environmental Action Committee. Attendees will be asked to bring one or two thoroughly washed items, and the speakers will explain whether they're recyclable. All attendees will receive a reusable bag.
Photo credit: Teerasak Ladnongkhun/Shutterstock