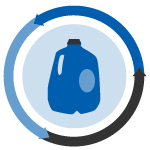 A PE-PP compatibilizer breakthrough snags an award, and a company launches a NIR sorter identification testing service.
Compatibilizer snags award: A prestigious science prize has been awarded to university researchers who developed a PE and PP compatibilizer. Scientists at Cornell University and the University of Minnesota received the 2017 Newcomb Cleveland Prize from the American Association for the Advancement of Science. The additive they developed is a single polymer chain with multiple blocks of PE and PP. The construction allows them to anchor or "stitch" the different polyolefins together when recycled.
Plastics to chemicals project: A deal has been signed to build a plant in Rotterdam, Netherlands that will convert plastics and other mixed wastes into methanol. Air Liquide, AkzoNobel Specialty Chemicals, Enerkem and the Port of Rotterdam have signed a development agreement covering the initial investments in the facility, which will be the first of its kind in Europe. The plant will be capable of converting 360,000 tons of feedstock into 220,000 tons (270 million liters) of methanol per year.
Innovations up for awards: Nominees for the first Plastics Recycling Awards Europe have been announced, and technology innovation category includes a number of notable efforts. Plastics News reports the nominees include sorting, processing and materials innovations from the following companies: APK, Borealis, Erema, Ergis, Fimic, Mondi, Pellenc, Sipa, Starlinger and Vecoplan. The winners will be announced at the Plastics Recycling Show Europe, April 24-25 in Amsterdam.
NIR identification: A UK company has launched a service to help packaging producers and brand owners determine early on whether their packages can be property identified by NIR sorters. Plastics compounder Luxus on Feb. 13 announced it was launching its colored polymer analysis service, according to Plastics News Europe. The company will help find alternatives for any pigments that can't be seen by the sensors.
Chemical recycling plant: A chemical recycling plant converting recovered plastics into polyols has come to Dubai, United Arab Emirates. Built by German companies RAMPF Eco Solutions and Keil Anlagenbau for an insulation maker, the chemical recycling plant makes polyols from PET, phthalic anhydride (PSA) and polyurethane (PU)/polyisocyanurates (PIR).
To receive the latest news and analysis about plastics recycling technologies, sign up now for our free monthly Plastics Recycling Update: Technology Edition e-newsletter.