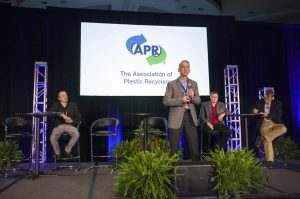 Members of the Association of Plastic Recyclers (APR) convened last week in conjunction with Plastics Recycling 2018 to talk about key issues affecting polymer recovery.
The APR event, held at the Gaylord Opryland Resort & Convention Center in Nashville, Tenn., had record attendance. The following topics were covered at the meeting:
Global plastics protocol harmonization
The association has a long and well-recognized history of assuring that plastics packaging is recyclable.
APR is now involved in an international effort to harmonize such packaging protocols. This design-for-recycling project is, in part, a response to the Ellen MacArthur Foundation's New Plastics Economy initiative. In addition, APR's new work reflects the recent rise in anti-plastics sentiment. Also, packaging innovators have been exerting pressure so that new packaging could be tested and recognized faster worldwide.
Three parties are working on this project: APR, the Plastics Recyclers Europe and the European PET Bottle Platform. They will be developing draft uniform protocols this summer. In addition, efforts are underway to have trade groups in many other countries, including China, India, Mexico and South Africa, join this initiative. Key leaders from the American and European plastics recycling groups agree that their current protocols will not need significant revision to be fully aligned.
APR continues to pressure ASTM
The association remains involved in assuring that standards coming from ASTM are pro-recycling. This involves pending standards for plastics degradation and the plastics resin identification code. Votes are underway on four new standards related to the resin identification code. APR is asking members to vote affirmative.
California legislation receives focus
Bruce Magnani, APR's lobbyist in California, summarized key plastics recycling legislative maneuvers in the nation's most populous state. The state's packaging reform actions over the past five years have received considerable attention, especially given the existing recycling goal of 75 percent.
To attain this goal, recycling will need to increase. For plastics packaging, the state has offered an extensive list of possible strategies, such as landfill bans, source reduction and minimum recycled content standards. The legislature is active. Legislators are considering a measure requiring beverage caps to be tethered. Another bill forces EPS producers to fund a statewide recycling program. A third bill bars the retail use of plastic straws unless one is requested. And another bill would allow CalRecycle, the state agency, to potentially revamp the state's redemption program.
A few tidbits
Several other newsworthy items were discussed at the APR meeting.
Steve Alexander, APR's executive director, offered a skeptical assessment of the move toward sustainable materials management (SMM). He suggests SMM proponents need to remember that "sustainability begins with recycling."
APR has launched a foundation and is hiring a manager. A full rollout of the foundation will occur this summer. The new organization is designed to allow APR to receive financial support for research and other activities.
APR leaders say they continue to fight companies and organizations promoting degradable additives. "Please don't think we've won this battle," said Alexander. APR insists these additives harm recycling and should be barred from use.
An APR member committee is working to tightly define post-consumer resin and to assure it is used accurately. Some reclaimers have complained brand owners might be buying "PCR" that incorporates industrial scrap. Already three certification bodies are struggling with this issue, and the APR committee is taking a look at how better to assure that cheating is not occurring.
More stories about industry groups