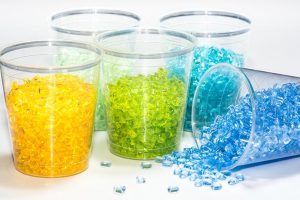 There is growing chatter that China's ban on imports of many recovered plastics will grow the country's demand for virgin resins.
In late November, markets publication S&P Global Platt's reported on the annual Gulf Petrochemicals and Chemicals Association meeting, an industry conference attended by many virgin polymer producers. CEOs of three petrochemical companies told the publication the Chinese scrap ban would positively impact the petrochemical industry by removing competition from recovered plastics.
"It is helping virgin demand," Equate CEO Ramesh Ramachandran told S&P Global Platt's.
Earlier in the month, the head of global polymer producer LyondellBasell expressed a similar sentiment.
"Certainly we're seeing recycling plants being shut down and demand for recycled plastics down significantly, so virgin polymer demand is generally increasing. Directionally, it bodes well for the cycle, and we're seeing prices respond," LyondellBasell CEO Bob Patel told ICIS, a petrochemical market publication.
He also said he anticipates the boost in virgin polymer demand increasing strongly in the first and second quarters of 2018, which correlates with the implementation of China's scrap ban.
The predictions began almost immediately after the ban was officially announced in July. In an ICIS article, John Richardson noted that PE producers were "getting excited over the benefits of the ban." He pointed to the 2.9 million short tons of recovered PE imported into China the year before, stating that the gap the ban would leave between supply and demand "is no small deal."
However, the ICIS article also floated the possibility that the Chinese recycling industry will work to fill that gap. This has frequently been cited by Chinese officials as one of the goals of the recent import policy changes.
More stories about markets