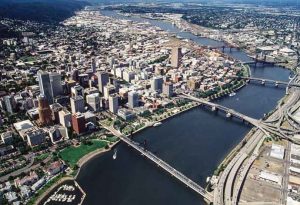 A Portland, Ore. reclaimer is making plans for a facility that would sort out less commonly recycled plastics coming from across the region.
The Inlander newspaper reports Denton Plastics is looking at building a plastics recycling facility (PRF) to sort, wash and grind recycled plastics. The facility would feed material to the company's current location, which produces pellets for molding into a variety of applications. The newspaper spoke with company founder and chairman Dennis Denton, who said they're working to negotiate a guaranteed supply of material for a PRF.
Nicole Janssen, president of Denton Plastics, also spoke at a recent meeting of the Association of Oregon Recyclers about the company's aspirations to build a PRF in the next couple of years.
PRFs take in mixed plastics and sort out and sell resins that aren't often targeted by materials recovery facilities (MRFs). They are being talked about more as a solution for boosting domestic markets. A new facility, ReVital Polymers, recently opened in Ontario. Some, including plants run by QRS in Baltimore and Georgia, have encountered financial and operational difficulties.
More stories about processing