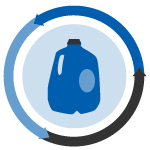 A massive virgin PET production facility could shutter before it opens, and a New York county rolls out full-scale foam food-service packaging collection.
Financial setbacks: A $1 billion virgin plastics plant in Corpus Christi, Texas will shut down mid-construction unless it receives more money from its parent company. The Houston Chronicle reports work on the massive project by M&G will cease in the coming months "unless something changes," putting in jeopardy the anticipated 1.2 million tons per year of virgin PET the facility would produce.
Florida first: Business leaders looking to drive national diversion above its current 34 percent range have selected Orlando, Fla. as the site of their pilot project. In a press release, the U.S. Chamber of Commerce Foundation writes Orlando was chosen due to its "high degree of readiness for recycling and reuse system development, community engagement, project partners and key relationships."
Changing focus: A manufacturer will cease production of bottled water in concert with its aim to play a larger role in tackling environmental issues. ABS-CBN News reports San Miguel Corp. will give up its bottle manufacturing in favor of producing water filtration technology that can be used in disaster situations.
Packaging positives: The Oregon Department of Environmental Quality has published the results of studies on the environmental impacts of various foods, as well as packaging waste and food waste. Among other findings, the packaging report described how a company's decision to use non-recyclable materials, such as multi-layer films, can have an overall positive environmental impact if they prevent food waste.
DIY diversion: A fundraising effort in Sumatra, Indonesia aims to secure money for parts to build a plastic recycling machine. The fundraiser through Generosity.com notes that recycling infrastructure is lacking in Southeast Asia, and that the equipment can be built and maintained by locals, who can then produce and sell products from the recycled plastic.
Foam collection: Madison County, N.Y. has expanded a pilot project into a full-scale foam polystyrene packaging collection program. In a press release, the Foodservice Packaging Institute (FPI) describes how the county purchased and installed a densifier during the pilot program, allowing it to compact the material for shipment to end markets. FPI provided a $43,000 grant to expand foam collections to all four of its transfer station sites.