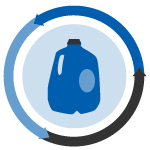 A major city bans straws and single-use plastic utensils, and plastic processing shoots for the stars with a new space-specific recycling technology.
Bio-possibilities: A new process has been developed that could expand the applications for a bio-derived and biodegradable plastic. Digital Journal reports the plastic's heat resistance can be increased dramatically using simple and quick methods, meaning the material may have particularly beneficial properties for wearable devices.
Astronomical recycling: Space – it's not only the final frontier for exploration, it may also be the next frontier for plastics processing technology. Newsweek writes about a NASA initiative that will take a specific type of sturdy plastic, a polyetherimide thermoplastic called Ultem, and melt it down for use as filament in 3D printing applications. NASA hopes to expand the effort to process other types of plastic in space in the future, according to the article.
Straw ban argument: Seattle is moving forward with a ban on plastic straws and single-use plastic utensils. The Seattle Times reports businesses will be required to provide recyclable or compostable alternatives or simply not provide straws and utensils. More than 200 businesses voluntarily made these changes prior to the regulations, the paper writes.
Compostables rejected: Republic Services is rejecting the inclusion of compostable plastics in organics carts in Corvallis, Ore., saying they don't break down fast enough. The Corvallis Gazette-Times reports the hauler is not accepting bio-derived plastic cutlery and cups, and is even turning away corn-based plastics developed by a local company in partnership with nearby Oregon State University.
Barcode outreach: It's tough to communicate to the consumer how to recycle different products, and a French company is offering a new solution. Reuters reports on a barcode scanner that's being developed to allow customers to scan a product and be told how it should be recycled. Uzer, the company behind the project, has more than 200,000 products in its scanner database and is working to partner with retail outlets, according to the report.
China's upstream impact: The Continuous Improvement Fund has compiled some information to address the possible ripple effects in Ontario of a ban on imports of certain recovered materials into China. The write-up notes that the timing is particularly poor considering the closure of other downstream outlets including the QRS plastics recycling facility in Baltimore and Resolute Forest Products' paper mill in Ontario. But the article also points to the province's upcoming transition toward a full extended producer responsibility system and opines that development could offset some of the negative impact.
Comments on China: In related news, the National Waste and Recycling Association (NWRA) has responded to China's proposed ban on imports of certain recovered materials, calling for more clarity and asking Chinese officials to delay its implementation. In its letter, the NWRA writes that it agrees with China's goal of improving the quality of imported materials and suggests that officials adopt policies that more specifically address that issue.