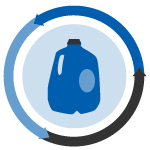 An outreach campaign sees success in boosting plastic bottle recycling in North Carolina, and a major city decides not to pursue bag fees.
Degradable plastics: A producer of biodegradable plastic packaging has moved into the coffee market. Tipa is making a package for coffee beans made from flexible film that it claims is fully biodegradable, according to beveragedaily.com.
Measurable difference: The Your Bottle Means Jobs outreach campaign has made a measurable difference in the weight of plastic bottles recycled in North Carolina, according to a press release. During the March-May 2017 time period, recycling processors in the Raleigh-Durham area sold 2 percent more weight of plastic bottles than during the previous year's period.  The outreach program was profiled in the May 2017 print edtion of Plastics Recycling Update.
Bottle recycling bill: Advocacy group Californians Against Waste has issued a press release calling on state lawmakers to take up a bill aimed at preserving the Golden State's beverage container collection infrastructure. The group is calling for legislators to act by mid-September to pass the bill, which is meant to stem the tide of bottle redemption center closures.
Ag plastics deal: A partnership will lead to the recycling of agriculture plastics in California's central coast region, according to Plastics News. Toro Co., which makes drip irrigation systems, is working with recycling company Revolution Plastics to reclaim old drip tape.
Bag fees: Minneapolis city leaders have decided not to pursue a 5-cent fee on bags provided at checkout, and they've instead directed staff to develop ideas for reducing plastic waste, the Star Tribune reports. The city council considered imposing a fee after state lawmakers imposed a statewide prohibition on local bag bans. Meanwhile, Duluth, Minn. may be looking to implement a fee system, a move the News Tribune newspaper opined would burden low-income residents.