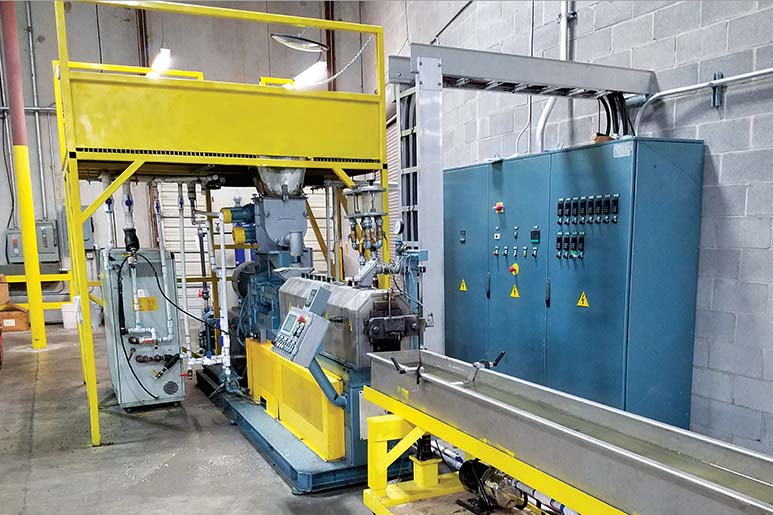 This story originally appeared in the May 2017 issue of Plastics Recycling Update. Subscribe today for access to all print content.
The story of Birch Plastics has been one of branching out.
What started in 2001 as a plastics trader operating out of a 5,000-square-foot building is, today, one of the country's largest post-industrial plastics recycling operations. And Birch is continuing to push forward.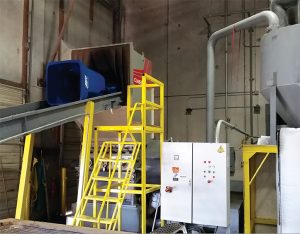 "Birch is growing and expanding again this year," said Brandon Cleary, the company's vice president. "In 2016, we grew by 20 percent and are forecasting a 30 percent growth for 2017." That means shopping for a single-screw, 4.5-inch compounding line to help keep up with demand.
Today, Birch Plastics offers a variety of plastics processing and related services from its 70,000-square-foot manufacturing facility. In terms of feedstock, about 90 percent is post-industrial plastics, with the rest coming in via single-stream post-consumer collections. From that, Birch Plastics produces regrind, repro pellets, powder blends and custom compounds, most of which are sold domestically on the open market.
Birch maintains a minimum stock of 2 million pounds of resin at all times, Cleary said.
Its customers include injection molders, blow molders and extrusion processors. These buyers make pipe, crates, HVAC components, sporting goods, industrial parts, hardware supplies, bags and sheeting.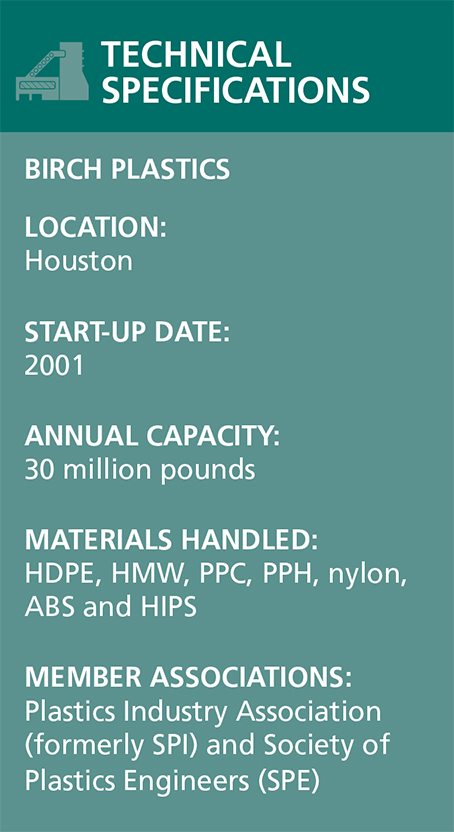 The Birch headquarters includes a wide array of equipment and facilities.
It has eight grinding lines, one shredder, three regrind cleaning stations, blending silos, two classifying shakers, a laboratory, 12 docks, a high-speed powder blender and a twin-screw compounding line.
In terms of equipment makers, Birch Plastics uses grinders and shredders from Cumberland, Nelmor, Genox and Vecoplan; shakers from Swaco; a high-intensity mixer from Henschel; and a compounding line from Comac.
In addition to producing recycled plastics for sale, Birch Plastics has begun providing various plastics-processing services. Those include R&D twin screw compounding, high-intensity powder blending and plastics life-cycle testing, all recent service additions.
Compounding is done on a vented 43-millimeter twin screw compounding line. Birch provides powder blending at either low or high speeds. And testing services include examining Izod impact, melt flow, ash and durometer, as well as analyzing plastic with an FTIR spectrometer.
Birch leaders attribute the recent growth to an emphasis on consistency and quality, noting that the company deals in high-quality plastics and doesn't trade in low-end contaminated materials.
All regrind is melt flow tested to ensure proper quality, and the material runs through two stations to remove any residual metals and fines. The regrind is packaged in a lined, lidded and contaminate-free box.
"Our extensive process is hands-on, and an extraordinary amount of effort and care goes into each and every box," Cleary said. "We strive to reach our goal of zero returns and happy, productive customers."