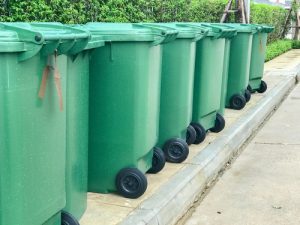 Last year, America's most populous state notched a 44 percent recycling rate, down from 47 percent in 2015 and 50 percent in 2014, according to government figures.
The California Department of Resources Recycling and Recovery (CalRecycle) recently released data on the 2016 recycling and disposal rates.
The state's goal is to achieve a 75 percent recycling rate by 2020. Recycling rate goals and results both include composting but exclude waste-to-energy, alternative daily cover at landfills and other "beneficial reuses."
Even with a falling recycling rate, the state of nearly 40 million people still well exceeds the national average recycling rate of about 34 percent. In order to meet its goals, however, a big turnaround will be needed.
"In order for California to reach a statewide recycling rate of 75 percent, more than half of the solid waste that is currently disposed would need to be source reduced, recycled, or composted," according to CalRecycle.
A major reason the recycling rate is struggling is the rise over the past four years of both total and per capita disposal, according to CalRecycle. In 2016, the state sent 42.7 million tons to disposal, or about 6 pounds per person per day. The state's 2020 goal is 2.7 pounds per person per day.
CalRecycle staff pointed to several reasons for the rising disposal volumes: relatively low disposal costs, higher wages driving increased consumption, slow-to-develop domestic markets for recyclable materials, declining international markets for recyclables and a lack of in-state infrastructure to process organics.
In pursuit of the 75 percent goal, the state "may need to consider new methods that require specific or mandatory action from local jurisdictions, the waste industry, the state, product and packaging manufacturers, and others," according to the department's report. New efforts underway include implementation of Senate Bill 1383, which was legislation enacted to reduce the state's methane emissions by boosting organics recycling.
Additionally, CalRecycle noted its efforts to formulate mandatory packaging policies, which could mean putting recycling obligations on producers or mandating the use of recycled content.
More stories about collection