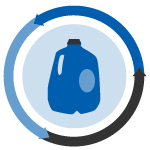 Minneapolis tries a new approach to tackle single-use plastic bags, and the National Park Service ends its ban on sales of bottled water.
Ban reversed: The National Park Service (NPS) will no longer ban the sale of bottled water in disposable plastic bottles on its land, after six years of prohibiting the practice. In a press release, the NPS said the change will "expand the hydration options" for park visitors, and added the agency will continue to promote recycling of plastic bottles as well as the use of refillable containers.
EPR expansion: The Canadian province of Ontario is transitioning to a full extended producer responsibility (EPR) program for residential paper products and packaging (PPP). According to a letter from the province's Minister of Environment and Climate Change, the transition will move the system from its current shared-cost model to full producer responsibility, and it will set the stage for a later transition to an individual producer responsibility system.
Take a seat: An English hotel is taking a creative approach to communicating the importance of recycling. Local business news website InTheBay writes about the Midland Hotel in Morecambe, England, which has installed a chair made from more than 6,500 recycled plastic milk containers. The chair weighs nearly 700 pounds and frequently draws visitors to pose for photos.
New approach: Minneapolis officials are not giving up their effort to reduce plastic bag usage, despite state lawmakers prohibiting their previous tactic. The Star Tribune newspaper reports City Council members will propose a plastic bag fee. The state legislature previously passed a statewide ban on bag bans.
Supply competition: An Australian recycling company is working to scale up its recycled plastic railroad ties in order to win a bid to supply a large rail company. According to Plastics News, Melbourne-area Integrated Recycling is one of five companies competing for a share of a $78.4 million supply contract with the Queensland Rail network, which is looking to use railroad ties sourced from alternative materials.