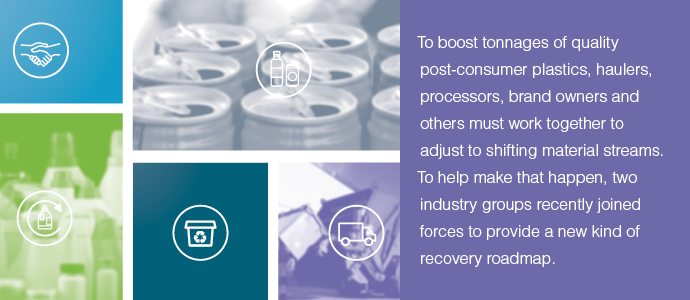 This story originally appeared in the May 2017 issue of Plastics Recycling Update. Subscribe today for access to all print content.
Late last year, The Recycling Partnership and Sustainable Packaging Coalition (SPC) released separate wide-reaching studies of the curbside recycling system in the U.S.
SPC, with the help of Resource Recycling Systems (RRS) and More Recycling Associates (then Moore Recycling Associates), spearheaded an industry collaborative to analyze the availability of recycling programs in the U.S. and the types of packaging accepted by those programs. The national acceptance rates that the study determined amount to the most comprehensive data set ever produced in this realm.
The study, which helps inform the SPC's How2Recycle label in communicating with the public about whether an item is recyclable in a local program, also garnered additional information about the national recycling system. One notable finding was that 47 percent of Americans lack automatic access to curbside recycling.
Meanwhile, The Recycling Partnership last year released its inaugural "State of Curbside" report, examining the national curbside recycling system for single-family homes. The Recycling Partnership studied almost 500 cities, including the country's largest 250 communities, each state capital, and a broad cross-section of municipalities around the U.S. As part of this research, the group found that 60 percent of packaging is not being recovered in U.S. homes.
Together, the two studies show the current system is collecting merely half of the recyclables from half the homes in the U.S. Both the SPC and The Recycling Partnership think these numbers mean there is a great deal of opportunity for improvement.
To take on that challenge, the two organizations teamed up and created an initiative to build a roadmap for a stronger American recycling industry. ASTRX (Applying Systems Thinking to Recycling) is the name of their collaboration, which aims to increase recycling by strengthening each element of the recycling supply chain to create reliable and valuable manufacturing feedstock.
ASTRX is founded on the concept of systems thinking, an approach to problem-solving that considers each piece of a system, the relationship between the individual pieces, and the network as a whole.
Five Key Elements
In developing the concept of ASTRX, we focused on five key elements of the recycling system: end markets, reprocessing, sortation, collection and consumer engagement.
Interestingly, each one of these individual elements can be seen as "recycling." Think of a resident placing a container in a curbside cart, a hauler collecting that cart from curbside, a MRF sorting and baling those materials, a reclaimer shredding and processing the material, and a manufacturer using post-consumer resin (PCR) in new products. All are participating in recycling in their own way.
But all might not understand how dependent they are on the other players. In short, we don't often see the forest for the trees. One of the goals of ASTRX is to address this issue – to take a step back and look both at the recycling system as a whole as well as at its individual parts, and see where there are gaps in the system that we can help fill.
One of the first ways in which we are helping fill those gaps is with our "Navigating the Recycling System" tool, which is designed to help representatives of different aspects of the recycling system make better decisions as to how to design or manage a material or product.
For anyone in the value chain working on packaging issues, this tool can help start a conversation about the recyclability of the package. The tool lists many of the hurdles a package encounters as it flows through the recycling system. The goal is for packaging engineers, brand owners, local governments and others to be able to understand the breadth of challenges we face when we decide to recycle a package and understand the choices that packaging designers must make to design for recyclability. See the sidebar on page 34 for more on how this might apply to a specific material.
The lack of a standardized system for measuring recycling performance is another gap in the system. Although local governments collect some data, there is wide variation in the sets from community to community. For example, some include yard waste in their recycling figures, and others do not. Benchmarking performance from one local government to the next would require data cleaning, and in some cases not enough data is available to make this possible. ASTRX will help local governments identify ways to capture data so that it is comparable from one jurisdiction to the next.
An additional area where commonality is lacking is in consumer brands' recycled content goals. While we know that creating demand pull for recycled content is critical to the success of materials recovery, it is challenging to figure out just how to make demand pull happen. Brands can help by setting and achieving goals for recycled content, but that is easier said than done.
ASTRX will research the recycled content goals that are in place today in the hopes of helping companies that are interested in setting their own recycled content goals understand what's worked for others. ASTRX will also staff an industry leadership committee with members of the Sustainable Packaging Coalition to help identify and develop these end markets.
Another one of ASTRX's goals is to help strengthen the linkages between the different parts of the recycling system. To that end, we are working on an interactive exercise to help people from different parts of the supply chain understand the challenges facing people in other parts of the supply chain. The exercise will make its debut at the Sustainable Brands conference in Detroit on May 22.
Mapping flow of materials
In addition to the various efforts listed above, ASTRX is developing a national "MRF-shed" map to better develop tools for local, regional and state-level recycling program managers. A MRF-shed can be defined as a group of materials recovery facilities or single facility and the communities that provide the recyclable materials being processed. Just as a watershed drains its water to a single river or lake, a MRF-shed directs recyclable materials to a common outlet – end markets.
The Recycling Partnership is in the final stages of work on a pilot MRF-shed project in Ohio and Illinois, identifying the communities that collect and deliver material to a given MRF. The effort also details the availability of information on what materials local recycling programs accept as well as how residents participate, how often curbside pick-up occurs and more.
One surprising finding from the draft research is that in a given MRF-shed, information may be lacking or may vary widely from place to place. For example, in the pilot region, just 12 percent of communities presented material lists that were in line with what is actually accepted at the MRF. And 48 percent offered no list of acceptable materials at all.
When the MRF-shed project draft is released, ASTRX and The Recycling Partnership will get to work on projects related to this MRF-shed and others around the country, including development and harmonization of outreach materials in a MRF-shed and testing to see if it can be used as a contamination reduction tool.
The MRF-shed mapping and other projects are being enabled in large part because of the partnership at the core of ASTRX. Working together allows areas of expertise to cross-germinate, enabling us to work on a broader set of problems across the aforementioned elements of the recycling industry than we could as individual organizations.
Extending the collaboration
Our work will also be strengthened by partnering with other agencies. Both The Recycling Partnership and SPC have strong connections to the Association of Plastic Recyclers (APR), with the SPC using APR as a key advisor for its How2Recycle program, consulting with the group's technical staff to clarify if a material can be added to the recycling system without causing issues for reclaimers downstream.
The Recycling Partnership also works closely with APR (one of the Partnership's funders) on numerous concerns such as end-market issues, product design and other broad matters facing the complicated plastics recycling industry. For instance, APR is helping to develop a project that will help show the demand of products using post-consumer resin and how such demand pulls recyclables through the system.
Additionally, The Recycling Partnership has been working with the Closed Loop Fund to more closely align local government work and identify projects where the groups could work together to recover more recyclable materials.
Ultimately, our groups collaborate with others because we know we can't strengthen the U.S. recycling system and increase manufacturing feedstock alone. We hope to partner with other organizations on this journey, so let us know if you have an idea or want to help us tackle the challenges of the American recycling system.
---
How does a PP tube navigate the recycling system?
To show the details of the ASTRX "Navigating the Recycling System" tool (download it at astrx.org), we chose a single material and illustrated how it moves through the system. The tool allows stakeholders to consider in what ways the material may affect others in the chain.
For this example, we chose a single-resin polypropylene (PP) small-format plastic tube. We wanted to choose a material that is not typically captured in the curbside system but is gaining in prominence on store shelves.
The tool starts with end markets – in this case, the end market would be a consumer packaged goods company or packaging producer that purchases the post-consumer resin from a plastics reclaimer. Post-consumer PP resin has value in various applications, such as being used as the middle filler layer between the interior and external virgin layers in other PP tubes. That explains why there is a green "no reason for concern" rectangle at the intersection of end markets and specifications.
Next up, under reprocessing, we found that there is ample reclamation capacity for PP. Regarding contamination, there is anecdotal evidence that the tubes don't pose a problem for the current material stream, but further study is needed, so that is why that square is marked as yellow.
Under sortation, we identified a red square at the intersection with infrastructure. From tours and interviews, we found that most current MRF infrastructure would struggle to easily and readily recover this material. With investment, notably in optical sortation, this could be addressed.
In the collection realm, we addressed the following question: "Is there a common suite of outreach materials that includes this product?" The SPC's "Access to Recycling" study showed an access rate of less than 20 percent for small-format tubes, so in this case, two squares are marked red.
An example under consumer engagement is the question of education – do consumers know the material is accepted? Looking again at both the SPC's access study and The Recycling Partnership's "State of Curbside" report, it's clear most outreach materials do not include this type of packaging, so this question has been marked red.
Looking broadly at the results for small-format plastic tubes, we gave yellow or red marks for several areas of the recycling system, indicating that this is a material that would struggle to make its way through the recycling system all the way to an end market.
---
Trina Matta is senior manager at GreenBlue, a group that includes the Sustainable Packaging Coalition. She can be contacted at [email protected]. Dylan de Thomas is vice president of industry collaboration for The Recycling Partnership and can be contacted at [email protected].