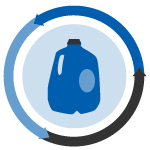 Yukon territory adds milk jugs and bottles to its deposit program, and the Container Recycling Institute organizes an art installation to raise awareness about marine debris.
Deposit on milk: Canada's Yukon territory has placed a deposit on milk containers, according to the Yukon News. Consumers will pay a 10-cent charge for each container, and they'll get 5 cents back when they return them to recycling centers. The province of Saskatchewan also recently revamped its list of deposit-program drinks, adding milk and milk products.
PET recycling boost: A New Zealand company has boosted the capabilities of its PET recycling plant by installing a wash line. Plastics News reports Flight Group previously imported flake to melt in its extruders but is now capable of using domestically generated PET bottle scrap.
Beach bottles: An art project was displayed on the shores of Hermosa Beach, Calif. last week, to bring awareness to ocean pollution and promote increased recycling. The Daily Breeze newspaper reports the flower-shaped art installation, organized by the Container Recycling Institute, was made up of 822 bottles, cans and cartons, representing the average number of beverage containers used by each American annually.
Plastic straw waste: Celebrities are backing a new outreach campaign to persuade the public to avoid plastic straws. Actor Adrian Grenier is among those participating in the #StopSucking social media effort from the Lonely Whale Foundation.
PET films: The demand for PET film for packaging is expected to grow faster than for any other major packaging film resins, according to a forecast from The Freedonia Group. Growth will be driven by the need for barrier films for food packaging.