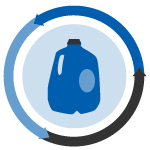 Another container redemption center shutters in Connecticut, and an Oregon company inks a deal to supply its styrene monomer extracted from recycled polystyrene.
Container closure: Redemption centers in Connecticut continue to struggle financially, and another center will be closing in the near future. CT News Junkie reports the center's operator attributed the closure to the stagnant handling fee that redemption centers are paid by the state.
PS partnership: Agilyx, an Oregon-based plastics processor, has signed an agreement to supply its PS monomer product to Americas Styrenics (AmSty). In a press release, Agilyx said the deal advances the commercial operation of its waste-to-styrene pyrolysis plant in Tigard, Ore.
Outreach effort: Rhode Island recycling officials have launched a public education campaign to reduce contamination. According to Rhode Island Public Radio, the outreach comes after an uptick in the number of contaminated loads, and it will include radio, billboard and social media advertisements. Last month, the state mailed bilingual recycling guides to 390,000 households.
Deposit compliance: Oregon officials have fined a retailer $80,000 for failing to comply with the state's container deposit law requirements. According to an Oregon Liquor Control Commission (OLCC) press release, 25 Walgreens stores did not participate in a redemption center program or provide equivalent container return services. The fine is the first ever levied for a container deposit violation, according to the OLCC, as other cases have been settled through education.