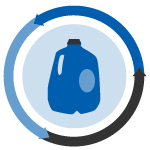 The Closed Loop Fund invests in end markets for often-landfilled mixed plastics, and a chemical company develops recyclable films for making food pouches.
Carbon fiber recycling: A nonprofit group working to engineer new methods of recycling uncured carbon fiber has inked a $400,000 contract, which will allow it to more than double its staff. The Port Angeles, Wash.-based Composite Recycling Technology Center says end products for recycled carbon fiber include pickleball nets and other sports equipment, bicycle and automotive parts, park benches and more, according to the Peninsula Daily News.
End-market investments: The Closed Loop Fund announced two investments aimed at increasing the value of post-consumer mixed plastics that usually head to landfill. The nonprofit organization invested in IntegriCo Composites, which makes recycled-content railroad ties, and GreenMantra Technologies, which makes recycled-content waxes and other products.
Recyclable pouch: This fall, Nova Chemicals will showcase its recyclable flexible packaging film structures at the Pack Expo Las Vegas, according to Plastics Technology. The company developed LLDPE and HDPE resin formulations for two types of films: one with a moisture barrier and another with moisture and oxygen-barrier properties. They can be used to make stand-up pouches, and they're qualified to carry the How2Recycle label directing consumers to recycle them via retail PE film collections.
Recycling collaboration: Suez Environnement has partnered with a Dutch recycling firm to recycle the difficult-to-handle plastics it collects from households in the Netherlands. Recycling International reports on the collaboration between the European waste management giant and Netherlands-based Kempenaars Recycling.
Diaper recycling: Sustainable Nonwovens reports on a European Union-funded project to promote the recycling of absorbent hygiene products such as diapers. The project has benefitted from technology, developed with support from Procter & Gamble, that sanitizes and separates used diapers so the plastics can be recycled.