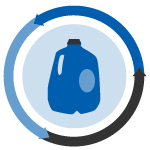 Coca-Cola's U.K. distributor announces new recycling goals, and some scientists criticize a marine plastics cleanup project that would send floating collection machinery into the oceans.
Bottle goals: Coca-Cola European Partners, which distributes Coca-Cola products across Western Europe, has announced new U.K.-specific goals to increase recovery of PET bottles and double the use of recycled content in the containers. According to Plastics News, the goals have received criticism from Greenpeace, which described the plan as "all fizz and no substance."
Facility fire: More than 500 metric tons of plastic were engulfed in a blaze at MBA Polymers' U.K. location this week. The Nottingham Post reports the fire emitted plumes of black smoke that could be seen for miles. Authorities alerted the public about the fire on Tuesday.
Film additive: As chemical company Clariant prepares for its $6.4 billion takeover of Huntsman Corp., it is also exploring new products to produce for China. Bloomberg reports the company is looking into a polymer additive that would double the lifespan of film and allow higher percentages of recycled content usage.
Critics come out: A project to clean up ocean plastics using floating trash collection machinery is drawing criticism from some scientists. The Verge writes about The Ocean Cleanup, the company launched by Boyan Slat that has raised more than $30 million toward its ocean cleanup goal and describes how some members of the scientific community are calling it a "waste of energy."
Keeping nips: Small bottles of hard alcohol known as "nips" will remain on store shelves in Maine for the time being, as the state's liquor commission has voted against a proposal to ban their sale. Gov. Paul LePage proposed the ban after he vetoed a legislative effort to implement a 5-cent deposit on nips and had his veto overridden. The Portland Press Herald writes that the proposal was shot down by the liquor commission by a 4-1 vote.