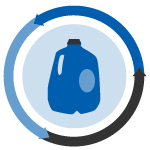 A Canadian company's bottle-to-bottle recycling operation gets a boost, and a recyclable oxygen-barrier film is developed for food packaging.
Marker potential: Marker technologies won't be a silver bullet to boosting recycling rates, but fluorescent pigments and digital watermarks could help protect the quality of recovered plastics, according to an article at canadianpackaging.com. The report is based on an interview with Richard McKinlay, head of engineering and research at the U.K. firm Axion Consulting.
Bottle-to-bottle boost: Recycling International reports that Canadian water bottler Ice River Springs has boosted its recycling performance through the installation of a Starlinger PET recycling line. The recoSTAR PET bottle-to-bottle line came with a Nordson BKG Flex Disc filter cartridge that has improved melt flow filtering performance by boosting output and reducing melt loss.
First-place finish: Canada-based Pyrowave, a company that uses microwave radiation in the depolymerization of PS, announced that it won first prize at the 6th IQ-CHem International Chemistry Innovation Competition, held in Moscow. The technology recovers styrene monomers from the plastics. Contest judges included representatives from The Dow Chemical Co., Linde, LG, Honeywell UOP, DuPont, 3M, BASF and Sinopec.
Recyclable packaging: Keurig Green Mountain announced that it will accelerate its timeline for ensuring all of its K-Cups are recyclable in Canada, Plastics News reports. The Vermont-based company will, by the end of 2018, produce all of its cups in Canada with a recyclable PP, replacing multi-material pods.
PS push: Trade association PlasticsEurope launched an effort to promote innovative recycling solutions for polystyrene, with a focus on chemical recycling. The group will work to engage the value chain to develop and industrialize promising new technologies, including those that can recycle post-consumer materials into food-contact packaging.
Recyclable barrier film: U.S. PE supplier Nova Chemicals has developed an easily recyclable oxygen-barrier film, according to Recycling International. The new packaging, which could replaced mixed-material packaging, is compatible with the HDPE stream.