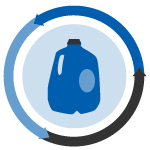 An industrial products manufacturer using recycled plastics receives an investment, and an alcohol brand will increase the recyclability of its packaging.
End-user investment: The Closed Loop Fund will invest in an manufacturer using 100 percent recycled plastics as its feedstock. According to a press release, Indigo Composites, a manufacturer of composite railway crossties and grade crossings, will use the investment to complete a second manufacturing line, resulting in a total capacity to use 65 million pounds of plastics per year.
PS focus: PlasticsEurope will look to promote polystyrene recycling technologies in an effort to support the European Union's circular economy plan. In an announcement, the group said its target is to "generate high-quality polystyrene to meet the most demanding standards, ultimately for food contact applications."
Straws in the spotlight: Plastic drinking straws continue to draw the attention of waste reduction advocacy groups, including "Be Straw Free," which was launched several years ago by 9-year-old Milo Cress. The Washington Post profiles work by the organization, which has included the now-15-year-old Cress testifying before lawmakers, as well as other straw-focused advocacy efforts.
Flat packaging pricing: As the weather heats up, sellers of recovered plastic are seeing flat to weaker pricing for their bales. Materials recovery facility managers note that the price paid for natural HDPE bottles remains stuck at about 30 to 31 cents per pound (price paid at the supplier's dock for a truckload of bales in the eastern U.S.). The same market portrayal holds true for PET bottles, with bales being sold in July at the same price as June (15-16 cents per pound).
Setting goals: Alcohol brand owner Diageo has announced it will aim to increase the recyclability of its packaging so that all of its products can be recycled by 2020. Beverage Daily reports the company also plans to use more recycled content and explore the use of bio-based PET in its products, which include bottles, cartons, multi-layer pouches, sachets and more.
Deposit dilemma: An Iowa lawmaker is continuing the push to repeal or replace the state's container deposit legislation, shortly after the issue died in committee during the recent legislative session. The Gazette writes "all options" are on the table in the recent talks, including eliminating the 5-cent charge on all containers, as well as expanding it to include a great deal more beverage types.
Veto power: Pennsylvania's governor has vetoed legislation that prohibits local governments from enacting plastic bag bans or fees, according to The Philadelphia Inquirer. Gov. Tom Wolf previously vowed to veto the legislation, citing concerns over limiting local control and constitutionality.