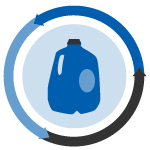 Agricultural plastics recycling expands in California, and another state looks to prohibit local governments from enacting bag bans.
Ag expansion: Agricultural products manufacturer Toro is partnering with Revolution Plastics to expand agricultural plastics recycling service in California. In a press release, Toro noted Revolution Plastics has opened a new operation in California, which will partner with Toro's existing Drip Irrigation Recycling Service to offer mobile collection for farmers.
Statewide prohibition: Pennsylvania lawmakers approved a prohibition preventing local governments from enacting bans or taxes on plastic bags. The Tribune-Review writes that the legislation was supported by plastics manufacturers. A coalition of municipal leaders, including the mayor of Pittsburgh, opposed the bill due to its limiting of local decision-making power.
Leather stand-in: An apparel designer plans to produce luxury apparel that uses recycled plastic as an alternative to leather. Vegan lifestyle media outlet VegNews reports designer Stella McCartney (daughter of Paul McCartney) will utilize a yarn fiber made from recycled fishing nets, bottles, and other trash that often ends up in the oceans.
Foam collection: San Diego's curbside recycling program will begin accepting polystyrene food-service packaging next month. According to the San Diego Union-Tribune, the unanimous vote by the City Council this week was praised by the business community, particularly as it runs counter to other municipalities considering bans on polystyrene food-service products. The focus on polystyrene comes shortly after the California Senate rejected a statewide ban on the material.