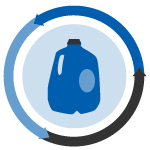 A Hawaii county bans polystyrene food-service packaging, and a Chinese operation is busted for some truly unsanitary recycling activities.
Future feedstock: Dow Chemical has completed construction of a new virgin plastics plant in Houston. The Houston Chronicle reports the facility will have an annual production capacity of more than 440,000 tons, and its plastics will be used to make packaging for food, personal hygiene product and industrial materials.
Polystyrene prohibition: Foam polystyrene food-service packaging will be phased out in Maui County, Hawaii by the end of 2018, after the county mayor signed a ban into law this month. According to The Maui News, the ban was opposed by a number of restaurants and local businesses based on its potential to increase costs, but officials pointed to the 18-month implementation delay as a mitigating measure.
Contention continues: The Maine House of Representatives and the Senate have both overridden the veto of a bill to add a deposit on mini liquor bottles. Gov. Paul LePage previously threatened a statewide ban on "nips" if lawmakers reject his veto and move forward with the deposit.
A thousand words: Plastic bags contribute significantly to litter and environmental problems in Nairobi, Kenya, and a recent series of photos published in The Guardian shows the scope of the issue. The photos come as the Kenyan government works to ban single-use plastic bags beginning in August.
Local legislation: On the heels of the California Senate rejecting a foam food-service packaging ban, Los Angeles city councilmembers have taken the first step toward a local ban, according to a press release. Californians Against Waste, an environmental advocacy organization that recently announced it would push for local bans after the state-level legislation was rejected, praised the council for asking city staff to research a foam ban.
Getting hosed: A dozen individuals associated with an "underground recycling ring" in China have been convicted of polluting the environment. According to Mashable.com, the recycling operation had amassed more than 150 tons of used medical supplies including syringes and bags for bodily fluids, rinsed the materials with a hose, processed them into polypropylene pellets and sold them for use in manufacturing a variety of products.
Ripple effect: The Massachusetts bottle bill generates nearly 1,500 jobs and contributes between $85 million and $151 million to the state's economy, according to a report from the Container Recycling Institute. The organization compiled the data as the state's container deposit is up for legislative debate, one of several states with changes to bottle bills proposed this year.