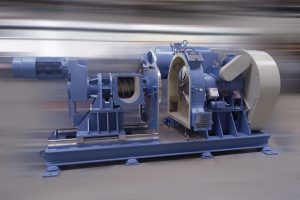 When densifying certain materials, gravity can fall short of what's needed to feed low-density bulk plastics into the equipment. That's why Herbold Meckesheim USA has developed a force-feed mechanism for its line of HV Plastcompactor Densifiers.
"While traditional gravity feeding is appropriate in some cases, it is not ideal for materials like carpet fiber, film or polystyrene," according to a company press release. "The new force feeder mechanism uses an auger to convey material at a higher and more consistent feed rate to deliver increased throughput and reduced energy consumption."
Plastcompactor Densifiers are use to convert low-density bulk plastics into agglomerates with good flow characteristics and high bulk densities. Doing this with sensitive thermoplastics requires gentle processing.
With the Plastcompactor Densifiers, material processing takes place between rotating and fixed compaction discs, both of which are equipped with screw-mounted, replaceable kneading rails. Granulated material moves through the center of the fixed disc into the processing chamber, where it is rapidly heated by the two discs. The material is heated and dried, but thermal decomposition is minimized because the plastic remains between the heated plates for only a short time.
In contrast to standard batch-type agglomerators or compactors, the HV agglomerators carry out a continuous process without adding water to the product, according to the company.
Herbold makes its HV Plastcompactors in three sizes, depending on the throughput that's needed. The throughput also depends on the source materials. As examples, the largest machine, the HV 70, can process up to 3,000 pounds per hour of polyethylene film, 2,600 pounds per hour of hard PS foam or 2,200 pounds per hour of PA 6 or PA 6,6 fibers, according to a product line brochure.