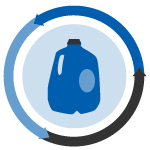 Florida lawmakers vote to remove roadblocks for plastics conversion efforts, and Envision Plastics announces it will source millions of pounds of material from regions prone to generating ocean plastics.
Conversion technologies bill: The American Chemistry Council's (ACC) Plastics Division praised passage of a bill in Florida that aids the implementation of plastics conversion technologies. House Bill 335 classifies post-use plastics as "recovered materials" instead of "waste," ensures facilities converting them into fuels, chemicals and other products are not designated as solid waste facilities and counts the conversion activities as recycling that can contribute to the state's 75 percent recycling rate goal, according to the ACC.
Preventing ocean plastics: Envision Plastics has announced its goal of sourcing 10 million pounds of plastics over the next two years from areas where the material is at risk of entering the marine environment. The company will recycle the recovered HDPE into its OceanBound Plastic, which can be further processed into various products.
Beyond bans: Instead of banning rarely recycled plastic items, some cities are embracing the idea of designating recyclable and compostable packaging, an expert at the Sustainable Packaging Coalition says. Charlotte Dreizen writes in Packaging Digest about how some cities are designating often-recycled plastics such as PET and HDPE as recyclable, although those listings often fail to recognize that product design and additive use can still inhibit recycling.
Petroleum plummets: Oil prices have fallen to their lowest level since late November, amid renewed fears about the oil supply glut, according to CNN. Prices hit $45.52 a barrel last week, off 15 percent from the peak in mid-April.
Marine plastics effort: The Ocean Cleanup, a project to deploy sprawling systems into the oceans to collect floating plastics, has raised nearly $22 million since November, Recycling International reports. Large-scale trials of the technology are expected to be launched in the Pacific Ocean by the end of this year.
HDPE collection strategy: While readily recyclable, HDPE milk jugs are generally not accepted in recycling collection centers in New Brunswick, Canada. IT World Canada reports on a collaborative effort that's considering instituting a separate collection system for HDPE containers, potentially using public bins with RFID tags and sensors to optimize collections.
Sustainable packaging: As the packaging market grows steadily in the future, "sustainability will become an increasingly important factor for decision makers at all stages of packaging value chains," according to research and testing firm Smithers Pira. Brand owners now consider sustainable packaging a necessity when it comes to attracting consumers and protecting market share, the researchers wrote.
EPS in NYC: After failing to successfully defend its ban on polystyrene foam food-service products in court in 2015, New York City may now consider mandating recycling EPS items, according to the New York Post. A Democratic New York City Councilman has introduced a bill requiring residents to separate EPS and the city's sanitation department to develop a strategy to collect it for recycling.