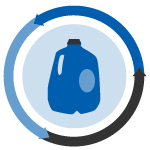 One manufacturer that uses recycled plastics will acquire another, and Pennsylvania may be moving to prohibit plastic bag bans.
Pivotal vote: Workers at ports up and down the West Coast will vote on whether to extend their current labor contract, a move that could offer some stability in the shipping industry. The Business Examiner reports the International Longshore and Warehouse Union's contract with the Pacific Maritime Association won't expire until July 2019, but an early vote to extend the contract could ease market apprehension over disruptions due to labor unrest.
Major merger: Film producer Klöckner Pentaplast (KP) has come to an agreement to acquire Linpac, a food packaging manufacturer. According to a press release, the acquisition will expand KP's production capabilities to provide trays as well as rigid and flexible films in 32 locations around the world. Both companies utilize recycled plastics in their products.
Bottle boost: The container redemption rate in Oregon appears to have increased since the state's deposit doubled from 5 to 10 cents per container. Oregon Public Broadcasting reports early numbers indicate a 93 percent redemption rate since the deposit doubled on April 1, up from 64 percent before the change.
Vinyl signs: Roughly 660,000 short tons of PVC were recycled in Europe last year, according to the sustainability program for the European PVC industry. Plastics News writes that more than 3.8 million short tons of PVC have been recycled in Europe since 2000, and most of the material comes from window profiles, cables, flexible applications, pipes and fittings.
Pennsylvania prohibition: A bill taking away the ability of municipalities to ban plastic bags has passed one legislative hurdle in Pennsylvania. The state's House of Representatives voted 102-87 on April 25 in favor of House Bill 1071, which now goes to the Senate for consideration. NPR's StateImpact reports that multiple cities are urging senators to reject the bill.
Setting goals: Recycling played heavily into Apple's recently released environmental responsibility report. Along with reporting on its in-office diversion rate and touting its plastics lightweighting and recycled-content sourcing efforts for packaging, the company describes its goal of using only recycled materials in its electronics.