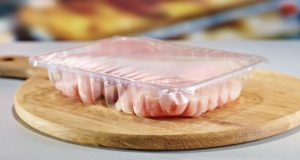 New meat and poultry packaging sold in the U.K. includes more than 95 percent recycled PET and is designed to improve recyclability.
"Unlike other designs on the market, the novel pack features a specially designed sealant between the rigid tray and top film, which avoids the need for a PE layer and makes the mono-material easier to process by recycling companies," according to a press release from packaging maker Linpac.
The packaging tray will be sold in the Tesco chain of grocery stores. Called the Linpac Rfresh Elite, the product is a result of a partnership between Tesco, Hilton Food Group and Linpac.
In addition to negating the need for a PE layer, the special sealant allows for package lightweighting. Specifically, it is up to 5 percent lighter than comparable PET trays, according to the press release.
It will incorporate more than 95 percent recycled PET, typically sourced from post-consumer water bottles.
"These trays represent a step change for the packaging industry by being much lighter, with the added bonus of making recycling easier for local authorities," Mark Caul, technical manager for packaging at Tesco, stated in the release. "This is a landmark innovation and a clear demonstration of our commitment to reducing our impact on the environment we live in."